Pengaruh Urban Heat Island terhadap Kenyamanan di Jakarta dan Sekitarnya Tahun 1993-2018
Keywords:
urban heat island, temperature heat index, ENSO
Abstract
Urban Heat Island (UHI) is a phenomenon of air temperatures in urban areas higher than in rural areas. Jakarta and its surrounding areas are examples of UHI phenomena that cause a higher level of comfort in urban areas compared to rural areas. The El Niño – Southern Oscillation (ENSO) factor is also considered influential in terms of UHI and comfort level. Data was obtained from 6 station points in Jakarta and surrounding areas in 1993-2018 which is the daily air temperature and humidity and used SOI data to determine the ENSO period. Calculate UHII using the Urban Heat Island Intensity (UHII) method, measure comfort using the Temperature Humidity Index (THI) method, and use a linear regression method to determine the relationship of UHII with different THI. As a result, the average value of Urban Heat Island intensity was not negative in all UHII. This shows that the air temperature in urban areas is always higher than in rural areas. THI and ISBB values ​​in urban areas are higher than rural areas, with THI values ​​in urban areas 25.5 to 27.8 or included in the category of partially comfortable to uncomfortable while in rural areas having THI values ​​of 24.5 to 25.5 or fall into the most comfortable category. THI value has a bimodal pattern which means it has two peaks. THI values ​​are highest in May and October and lowest in January and July. THI values ​​tend to be higher during the El-Nino event compared to the La-Nina incident with a neutral pattern in between. In addition, 1 ° C increase in UHII will result in an increase in THI difference of 0.9 when El-Nino, 0.78 when La-Nina and 0.86 when neutral.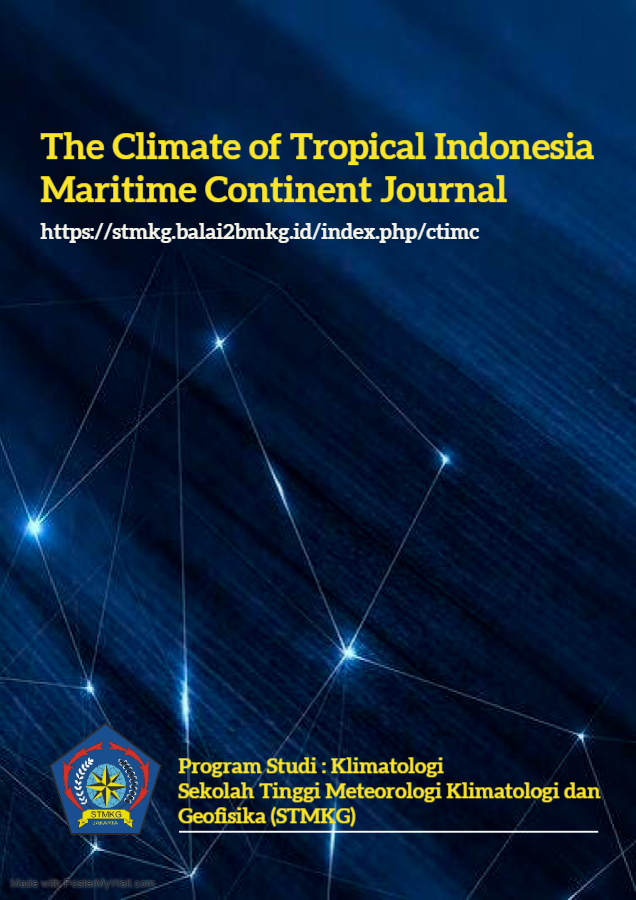 Downloads
License
Copyright (c) 2022 The Climate of Tropical Indonesia Maritime Continent Journal
This work is licensed under a Creative Commons Attribution-NonCommercial-ShareAlike 4.0 International License.