Climate Characteristics of the Makassar Coastal Based on FKLIM Data
Keywords:
Climate characteristics, land-sea breeze, coastal, Makassar, Paotere
Abstract
The sea is the most extensive part of the earth and the most developed place in the world, as well as Makassar City in Indonesia. Moreover, the mainstay of the coastal city relies on the economic sector related to the sea, which is strongly influenced by land-sea wind circulation. Although it has long been known as an area that is influenced by land-sea winds, identification of changes in land-sea winds is still very rare. The purpose of this study was to identify the characteristics of the land-sea wind in Makassar using FKLIM data. Moreover, windrose graph is used to analyze the influence of sea breezes on rainfall, humidity, temperature, solar radiation, wind direction, and speed. The result shows that the circulation of land and sea winds influences Makassar City since appearing of changes in wind direction. Based on its location, the west to the north wind is identified as a sea breeze, while the land wind appears as an east or southeast wind. The appearance of these two wind directions throughout the year shows the influence of land and sea winds. Both of the factors affect other weather parameters, such as rainfall, temperature, and humidity. Moreover, the occurrence of rain does not always dominate by the Asian monsoon, but sometimes by the easterly wind which is probably the sea breeze. Meanwhile, high humidity is found in both wind directions and the presence of sea breezes can keep the temperature in this city always warm.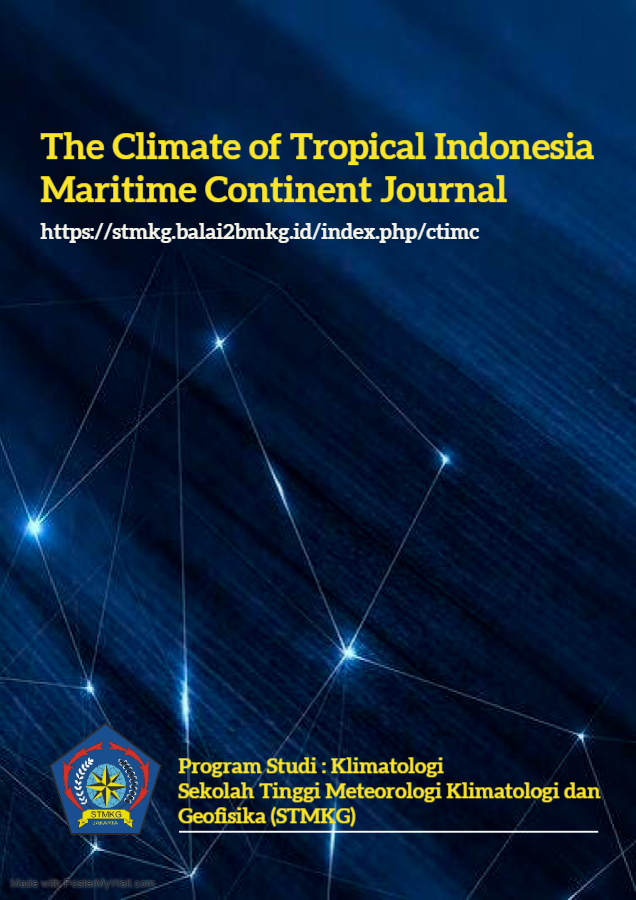 Downloads
License
Copyright (c) 2022 The Climate of Tropical Indonesia Maritime Continent Journal
This work is licensed under a Creative Commons Attribution-NonCommercial-ShareAlike 4.0 International License.