Identifikasi Urban Heat Island dan Faktor yang Mempengaruhinya Menggunakan Google Earth Engine
Keywords:
Urban Heat Island, Google Earth Engine, Suhu
Abstract
Karawang merupakan salah satu kota industri di Indonesia. Jumlah lahan industri di kabupaten karawang terus meningkat dan berpotensi menyebabkan terbentuknya Urban Heat Island (UHI) di wilayah tersebut. Terbentuknya UHI di kabupaten karawang dapat berdampak pada kenyamanan termal. Identifikasi UHI di wilayah kabupaten Karawang dapat dilakukan melalui analisis spasial dengan memanfaatkan Goolge Earth Engine Sehingga didapatkan peta UHI dan peta tutupan lahan. Pada periode 2015-2019 wilayah urban atau perkotaan mengalami peningkatan sebesar 1,49% disertai penurunan wilayah lahan kosong sebesar 0,01% dan lahan pertanian sebesar 0,78%. Pada periode 2015 hingga 2019, kondisi UHI di kabupaten karawang terpusat di Kecamatan Karawang Barat hingga Kecamatan Cikampek, hal ini dikarenakan UHI terdeteksi di wilayah kawasan industri, pusat kota, kawasan dengan lalu lintas padat dan tingkat aktivitas penduduk yang tinggi.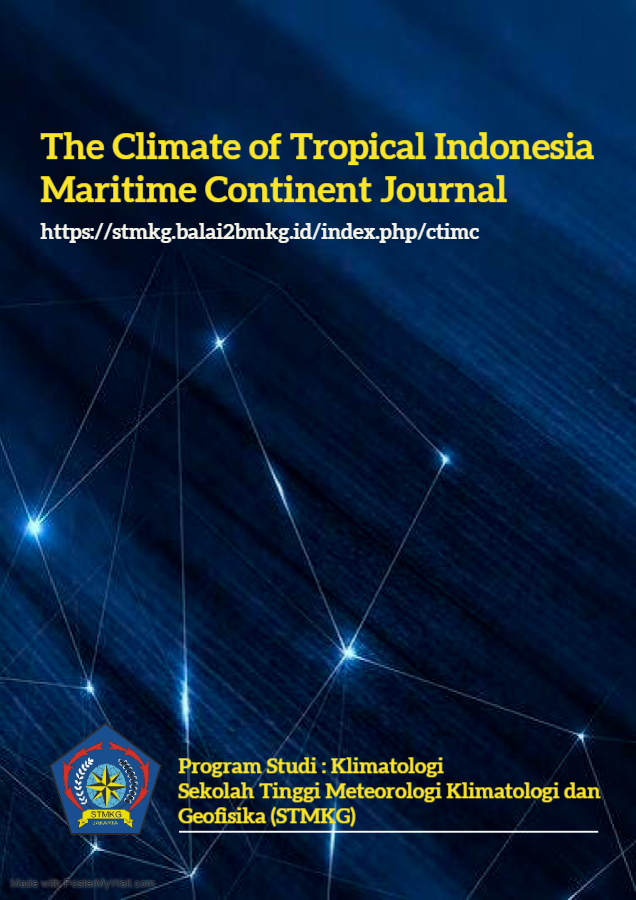 Downloads
License
Copyright (c) 2022 The Climate of Tropical Indonesia Maritime Continent Journal
This work is licensed under a Creative Commons Attribution-NonCommercial-ShareAlike 4.0 International License.