ESTIMASI KONSENTRASI NO2 PERMUKAAN DARI TOTAL COLUMN NO2 SATELIT AURA-OMI DI CISARUA PERIODE 2017-2018
Dewi Tamara Qothrunada

Stasiun Klimatologi Konawe Selatan, Badan Meteorologi Klimatologi dan Geofisika

Rista Hernandi Virgianto

Sekolah Tinggi Meteorologi Klimatologi dan Geofisika

Nugroho Dion Koestantio

Stasiun Meteorologi Citeko, Badan Meteorologi Klimatologi dan Geofisika

Siti Najma Nindya Utami

Stasiun Pemantau Atmosfer Global Sorong, Badan Meteorologi Klimatologi dan Geofisika

Dhiyaul Qalbi Syofyan

Stasiun Pemantau Atmosfer Global Kototabang, Badan Meteorologi Klimatologi dan Geofisika

Hendri Satria WD

Pusat Jaringan Komunikasi, Badan Meteorologi Klimatologi dan Geofisika
Abstract
ABSTRACT
AURA / OMI satellite data with a spatial resolution of 0.25 ̊ x 0.25 ̊ can be used to determine the concentration of pollutants in areas that have not been observed, one of them is NO2. NO2 total column concentrations derived from AURA / OMI satellite represent the density of pollutants vertically from the surface to the height of the troposphere, so it is necessary to calculate and estimate NO2 concentrations on the surface. The purpose of this study was to validate the surface NO2 concentrations estimation with the surface observation data at the Atmospheric Monitoring Post in Cisarua from January 2017 to December 2018. Estimation of surface NO2 concentration using AURA / OMI satellite was calculated by including vertical column density from CAMs model. The validation method used are correlation with significance test and error analysis using Root Mean Square Error (RMSE). Based on the calculation, the highest correlation coefficient obtained is 0.31 in March-April-May with significant test in the annual period and the March-April-May period. Error analysis results showed the lowest error value is in September-October-November while the highest value is in December-January-February.
Keywords: NO2, AURA / OMI, CAMs, total column, estimation
References
Alexandri, F., Zyrichidou, I., Balis, D., Poupkou, A. dan Melas, D. 2018. Inference of surface nitrogen dioxide concentrations from Ozone Monitoring Instrument (OMI) tropospheric NO.
Alfuadi, N. dan Prayuda, S. S. 2015. Analisa Karakteristik Curah Hujan Diurnal di Stasiun Meteorologi Sangkapura-Bawean dan Stasiun Meteorologi Citeko-Bogor Berdasarkan Pengaruh Regional dan Lokal. Prosiding Seminar Nasional Fisika dan Aplikasinya, Universitas Padjadjaran.
Belanger, K., Gent, J. F., Triche, E. W., Bracken, M. B. dan Leaderer, B. P. 2006. Association of indoor nitrogen dioxide exposure with respiratory symptoms in children with asthma. American journal of respiratory and critical care medicine. Vol. 173. Halaman 297-303.
Boersma, K., Bucsela, E., Brinksma, E. dan Gleason, J. 2002. OMI algorithm theoretical basis document: OMI trace gas algorithms, vol. 4, edited by K. Chance. Rep. ATBD-OMI.
Bovensmann, H., Burrows, J., Buchwitz, M., Frerick, J., Noël, S., Rozanov, V., Chance, K. dan Goede, A. 1999. SCIAMACHY: Mission objectives and measurement modes. Journal of the Atmospheric Sciences.
Bucsela, E., Celarier, E., Wenig, M., Gleason, J., Veefkind, J., Boersma, K. dan Brinksma, E. (2006). Algorithm for NO2 vertical column retrieval from the ozone monitoring instrument, IEEE T. Geosci. Remote, 44 (5), 1245-1258.
Burrows, J. P., Weber, M., Buchwitz, M., Rozanov, V., Ladstätter-Weißenmayer, A., Richter, A., DeBeek, R., Hoogen, R., Bramstedt, K. dan Eichmann, K.-U. 1999. The global ozone monitoring experiment (GOME): Mission concept and first scientific results. Journal of the Atmospheric Sciences. Vol. 56. Halaman 151-175.
Carslaw, D. C. dan Ropkins, K. 2012. Openair—an R package for air quality data analysis. Environmental Modelling & Software. Vol. 27. Halaman 52-61.
Choi, S., Joiner, J., Choi, Y., Duncan, B., Vasilkov, A., Krotkov, N. dan Bucsela, E. 2014. First estimates of global free-tropospheric NO2 abundances derived using a cloud-slicing technique applied to satellite observations from the Aura Ozone Monitoring Instrument (OMI). Atmos. Chem. Phys. Vol. 14. Halaman 10,565-510,588.
Darmawan, T. B. dan Syafei, A. D. 2019. Characterizing NO2 in Indonesia Using Satellite Ozone Monitoring Instruments. IOP Conference Series: Earth and Environmental Science.
Hewitt, C. N. dan Jackson, A. V. 2020. Atmospheric science for environmental scientists. John Wiley & Sons.
Ionov, D. V., Timofeyev, Y., Sinyakov, V., Semenov, V., Goutail, F., Pommereau, J. P., Bucsela, E., Celarier, E. dan Kroon, M. 2008. Ground‐based validation of EOS‐Aura OMI NO2 vertical column data in the midlatitude mountain ranges of Tien Shan (Kyrgyzstan) and Alps (France). Journal of Geophysical Research: Atmospheres.
Jaeglé, L., Steinberger, L., Martin, R. V. dan Chance, K. 2005. Global partitioning of NO x sources using satellite observations: Relative roles of fossil fuel combustion, biomass burning and soil emissions. Faraday discussions. Vol. 130. Halaman 407-423.
Lamsal, L., Krotkov, N., Celarier, E., Swartz, W., Pickering, K., Bucsela, E., Gleason, J., Martin, R., Philip, S. dan Irie, H. 2014. Evaluation of OMI operational standard NO2 column retrievals using in situ and surface-based NO2 observations. Atmospheric Chemistry and Physics. Vol. 14. Halaman 11587.
Lee, D., Köhler, I., Grobler, E., Rohrer, F., Sausen, R., Gallardo-Klenner, L., Olivier, J., Dentener, F. dan Bouwman, A. 1997. Estimations of global no, emissions and their uncertainties. Atmospheric Environment. Vol. 31. Halaman 1735-1749.
Levelt, P. F., Hilsenrath, E., Leppelmeier, G. W., van den Oord, G. H., Bhartia, P. K., Tamminen, J., de Haan, J. F. dan Veefkind, J. P. 2006. Science objectives of the ozone monitoring instrument. IEEE Transactions on Geoscience and Remote Sensing. Vol. 44. Halaman 1199-1208.
Marchenko, S., Krotkov, N., Lamsal, L., Celarier, E., Swartz, W. dan Bucsela, E. 2015. Revising the slant column density retrieval of nitrogen dioxide observed by the Ozone Monitoring Instrument. Journal of Geophysical Research: Atmospheres. Vol. 120. Halaman 5670-5692.
Nababan, B. 1989. Studi Hujan Asam di Daerah Kotamadya Bogor dan Sekitarnya. Skripsi. Institut Pertanian Bogor, Bogor.
Pohan, N. 2002. Pencemaran udara dan hujan asam.
Seinfeld, J. H. dan Pandis, S. N. 2016. Atmospheric chemistry and physics: from air pollution to climate change. John Wiley & Sons.
Yusad, Y. 2003. Polusi Udara Dikota-kota Besar Dunia.
Zendrato, E. 2010. Pengukuran Kadar Gas Pencemar Nitrogen Dioksida (NO2) di Udara Sekitar Kawasan Industri Medan.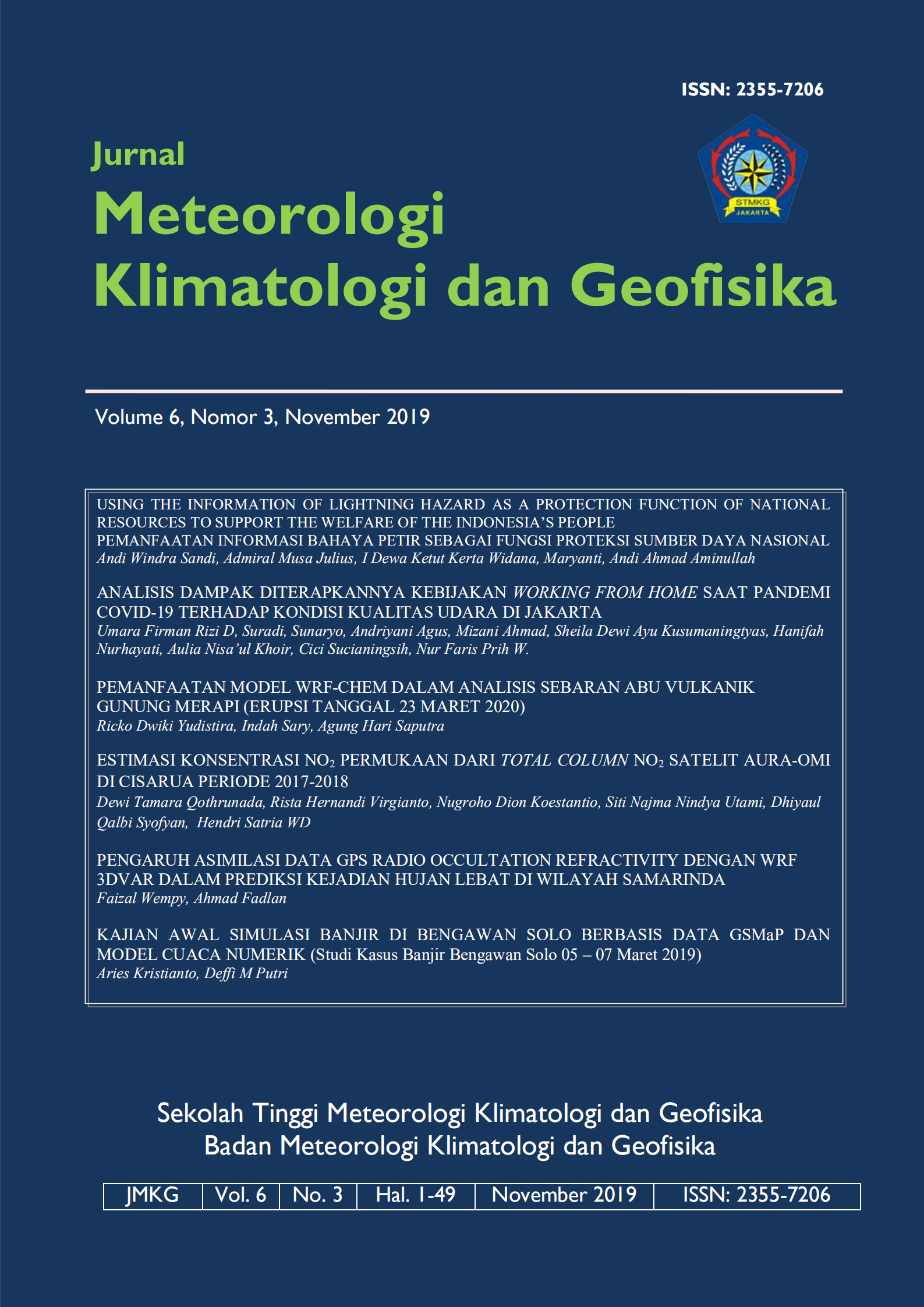 How to Cite
Dewi Tamara Qothrunada, Virgianto, R. H., Nugroho Dion Koestantio, Siti Najma Nindya Utami, Dhiyaul Qalbi Syofyan, & Hendri Satria WD. (2020). ESTIMASI KONSENTRASI NO2 PERMUKAAN DARI TOTAL COLUMN NO2 SATELIT AURA-OMI DI CISARUA PERIODE 2017-2018. Jurnal Meteorologi Klimatologi Dan Geofisika, 6(3), 23-31. https://doi.org/10.36754/jmkg.v6i3.136
Copyright (c) 2020 Jurnal Meteorologi Klimatologi dan Geofisika
This work is licensed under a Creative Commons Attribution-NonCommercial 4.0 International License.
Authors who publish with this journal agree to the following terms:
Authors retain copyright and grant the journal right of first publication with the work simultaneously licensed under a Creative Commons Attribution License that allows others to share the work with an acknowledgement of the work's authorship and initial publication in this journal.
Authors are able to enter into separate, additional contractual arrangements for the non-exclusive distribution of the journal's published version of the work (e.g., post it to an institutional repository or publish it in a book), with an acknowledgement of its initial publication in this journal.
Authors are permitted and encouraged to post their work online (e.g., in institutional repositories or on their website) prior to and during the submission process, as it can lead to productive exchanges, as well as earlier and greater citation of published work.