ANALYSIS OF THE WORKING FROM HOME POLICY IMPLEMENTATION REGARDING COVID-19 PANDEMIC IMPACT ON JAKARTA AIR QUALITY CONDITION
Umara Firman Rizi D

Badan Meteorolologi Klimatologi dan Geofisika

Suradi

BMKG

Sunaryo

Badan Meteorolologi Klimatologi dan Geofisika

Andriyani Agus

Badan Meteorolologi Klimatologi dan Geofisika

Mizani Ahmad

Badan Meteorolologi Klimatologi dan Geofisika

Sheila Dewi Ayu Kusumaningtyas

Badan Meteorolologi Klimatologi dan Geofisika

Hanifah Nurhayati

Badan Meteorolologi Klimatologi dan Geofisika

Aulia Nisa'ul Khoir

Badan Meteorolologi Klimatologi dan Geofisika

Cici Sucianingsih

Badan Meteorolologi Klimatologi dan Geofisika

Nur Faris Prih W

Badan Meteorolologi Klimatologi dan Geofisika
Keywords:
reduction of human activity, working from home, large scale social restriction, COVID-19 pandemic, concentration of air pollution, PM10 and PM2.5
Abstract
The purpose of this study is to examine the effect of the implementation of policies on reducing human activity regarding the covid-19 outbreak to the concentration of air pollution in March 2020 in the Jakarta area using a comparison of the time series of PM10 and PM2.5 hourly calculations calculated to be the daily average in March by applying the Pearson correlation equation and scatter diagram to obtain a pattern of relationships in the form of positive, negative or non-linear and the degree of weak, strong or perfect relationship between variables. The main contributions of this research are as follows: Evaluation of the significance of the decrease in the concentration value of the average PM10 and PM2.5 in March 2020 with a correlation to March variables in the previous year based on the acquisition of qualitative results in the form of a graph of the trend of decreasing PM10 and PM2.5 in March 2020 compared to March of the previous year and quantitative in the form of a negative correlation with the Pearson moment and scatter diagram showing a decrease in March 2020 compared to March of the previous year so that the policy of reducing human activity in a response to the Covid-19 pandemic has an impact on a better air quality condition in Jakarta.
References
Atmaja, G. D., 2015, Industri dan Emisi Carbon Dioxide (CO2) di Pulau Jawa. Media Bina Ilmiah.
Fardiaz, S., 1992, Polusi Air & Udara, Kanisius, Yogyakarta.
Naddafi K., Nabizadeh R., dkk., 2006, Evaluation of Dustfall in The Air of Yazd. Iran. Environmental and Health 3(3): 161-168.
Wardana, W., 2001, Dampak Pencemaran Lingkungan, Andi, Yogyakarta.
Amani, M., 2019, Kualitas Udara Jakarta yang Buruk jadi Sorotan, Ini 8 Faktanya, (https://megapolitan.kompas.com/read/2019/06/28/10100011/kualitas-udara-jakarta-yang-buruk-jadi-sorotan-ini-8-faktanya-?page=all).
Fuller, G., 2019, Pollutionwatch: How Does World Car Free Day Affect Emissions?, (https://www.theguardian.com/environment/2019/sep/26/pollutionwatch-how-does-world-car-free-day-affect-emissions).
IQAir, 2019, Analisis dan Statistik Kualitas Udara Untuk Jakarta [online], (https://www.iqair.com/id/indonesia/jakarta).
Kementrian Lingkungan Hidup dan Kehutanan, 1997, Index Kualitas Udara, (http://iku.menlhk.go.id/aqms/uploads/docs/ispu.pdf).
Kementrian Lingkungan Hidup dan Kehutanan, 2017, Pencemaran Udara: Pengertian, Penyebab, Dampak, Polutan dan Penanggulangannya, (https://lingkunganhidup.co/pencemaran-udara-pengertian-penyebab-dampak-solusi/).
Lunden, M., Thurlow, M., 2020 The Stunning Impact of COVID-19 Social Distancing on Air Pollution, (https://www.greenbiz.com/article/stunning-impact-covid-19-social-distancing-air-pollution).
Redaksi Ilmugeografi, 2020, 7 Ciri-Ciri Udara Bersih dan Sehat beserta Penjelasannya, (https://ilmugeografi.com/ilmu-bumi/udara/ciri-ciri-udara-yang-bersih-dan-sehat).
______, Peraturan Pemerintah tentang Pengendalian Pencemaran Udara, Peraturan Pemerintah No. 41 tahun 1999.
______, Keputusan Kepala Badan Pengendalian Dampak Lingkungan tentang Perhitungan dan Pelaporan Serta Informasi Indeks Standar Pencemaran Udara, Keputusan Kepala Badan Pengendalian Dampak Lingkungan No. 107 Tahun 1997.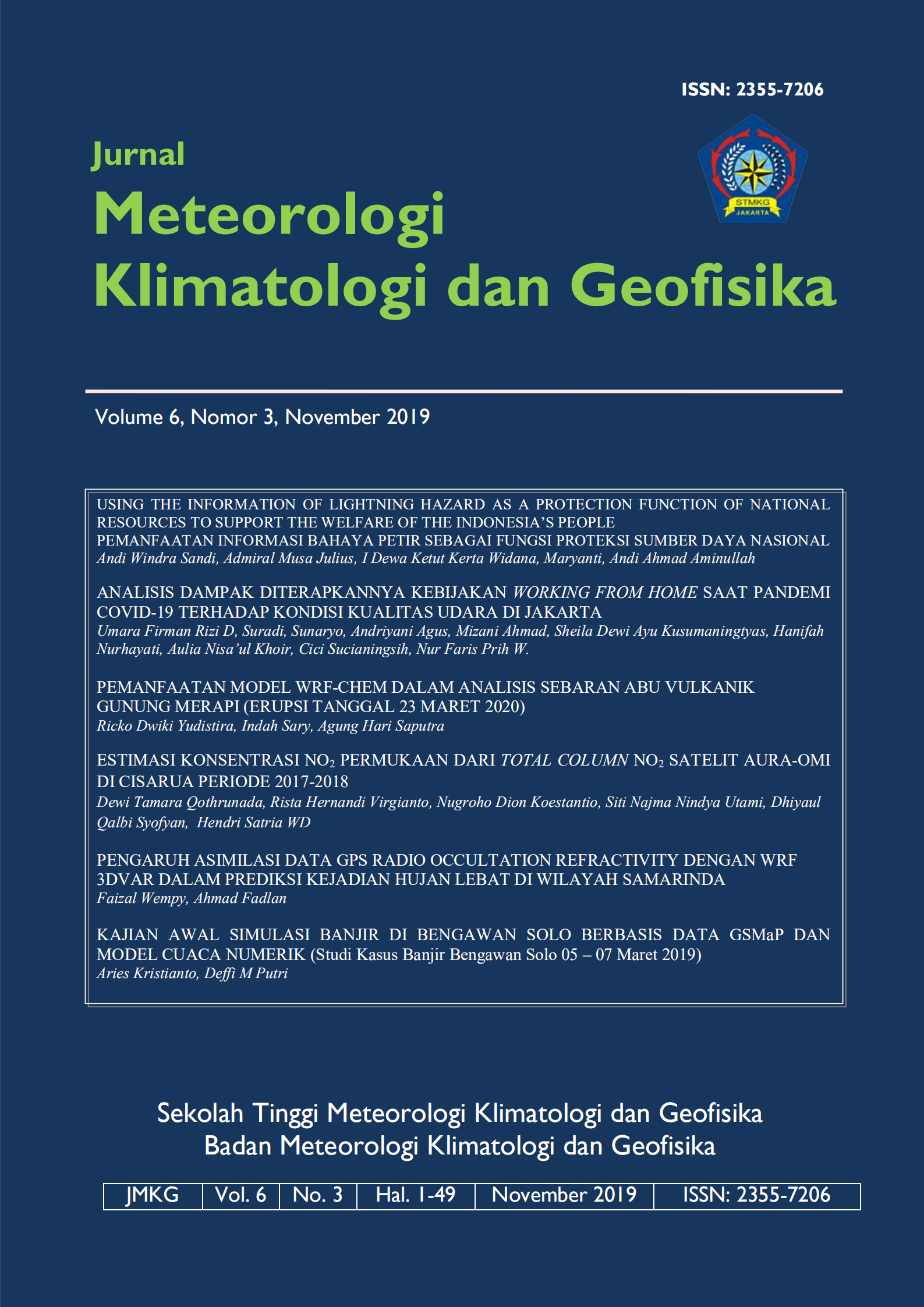 How to Cite
Umara Firman Rizi D, Suradi, Sunaryo, Andriyani Agus, Mizani Ahmad, Sheila Dewi Ayu Kusumaningtyas, Hanifah Nurhayati, Aulia Nisa'ul Khoir, Cici Sucianingsih, & Nur Faris Prih W. (2020). ANALYSIS OF THE WORKING FROM HOME POLICY IMPLEMENTATION REGARDING COVID-19 PANDEMIC IMPACT ON JAKARTA AIR QUALITY CONDITION . Jurnal Meteorologi Klimatologi Dan Geofisika, 6(3), 6-14. https://doi.org/10.36754/jmkg.v6i3.141
Copyright (c) 2020 Jurnal Meteorologi Klimatologi dan Geofisika
This work is licensed under a Creative Commons Attribution-NonCommercial 4.0 International License.
Authors who publish with this journal agree to the following terms:
Authors retain copyright and grant the journal right of first publication with the work simultaneously licensed under a Creative Commons Attribution License that allows others to share the work with an acknowledgement of the work's authorship and initial publication in this journal.
Authors are able to enter into separate, additional contractual arrangements for the non-exclusive distribution of the journal's published version of the work (e.g., post it to an institutional repository or publish it in a book), with an acknowledgement of its initial publication in this journal.
Authors are permitted and encouraged to post their work online (e.g., in institutional repositories or on their website) prior to and during the submission process, as it can lead to productive exchanges, as well as earlier and greater citation of published work.