PENGARUH ASIMILASI DATA GPS RADIO OCCULTATION REFRACTIVITY DENGAN WRF 3DVAR DALAM PREDIKSI KEJADIAN HUJAN LEBAT DI WILAYAH SAMARINDA
Faizal Wempy

Stasiun Meteorologi Temindung Samarinda, Kalimantan Timur

Ahmad Fadlan

Sekolah Tinggi Meteorologi Klimatologi dan Geofisika Banten, Indonesia
Abstract
There were two cases of heavy rainfall that occurred at Samarinda on 27 and 28 November 2016 with the accumulation of rainfall recorded at Temindung-Samarinda Meteorological Station were 73,7 mm/day and 72,6 mm/day. One of the ways to improve the prediction accuracy level given by performing the data assimilation to improve the initial conditions of the model. This research used Final Analysis (FNL) data, Global Forecast System (GFS) data, synoptic observation data, and Global Positioning System Radio Occultation (GPS-RO) Refractivity, where the GPS data will be assimilated into the WRF-ARW through WRF 3DVAR technique. Besides that, this research is also applying the spin-up model procedure with warm start mode which is accompanied by a rapid update cycle forecast in order to know the performance of WRF-ARW in predicting heavy rainfall phenomenon. The result of this research shows that applying the data assimilation procedure of the GPS-RO Refractivity which goes into WRF-ARW model can increase the predictions accurate level of heavy rainfall phenomenon which is occurred at that time. As for the high and low of the prediction, the result is affected by the length of time span prediction of the rain phenomenon. The length of time span prediction of the rain phenomenon, the better the rain prediction result generated by using WRF-ARW model.
References
Aldrian, E., Karmini, M., Budiman, 2011, Adaptasi dan Mitigasi Perubahan Iklim di Indonesia, BMKG, Jakarta
Ahrens, C.D, 2009, Meteorology Today: An Introduction to Weather, Climate, and the Environment, 9th ed, Cengage Learning, Belmont,CA: Brooks/Cole
Boonyuen, P., Wu, F., Phunthirawuth, P., Zhao, Y., 2016, Impact of GPS RO and Radiance Data Assimilation on Numerical Weather Prediction, IEEE International Geoscience and Remote Sensing Symposium
Hadi, T.W., Junnaedhi, I.D. Gd. A., Satrya, L.I., Santriyani, M., Anugrah, M.P., Octarina, D.T., 2011, Pelatihan Model WRF (Weather Research and Forecasting), Laboratorium Analisis Meteorologi (Weather and Climate Prediction Laboratory) Fakultas Ilmu dan Teknologi Kebumian ITB, Bandung
Ide, K., Courtier, P., Ghil, M., Lorenc, A.C., 1997: Unified Notation for Data Assimilation: Operational, Sequential and Variational. J. Met. Soc. Japan, 75, 181–189
Kalnay, E., 2003, Atmospheric Modeling, Data Assimilation and Predictability, 1st ed, Cambridge University Press, New York.
Pradana, M.J., 2017, Pengaruh Asimilasi Data Satelit Advanced Microwave Sounding Unit-A Terhadap Kemampuan Prediksi Hujan Model Weather Research And Forecasting di Kalimantan, Skripsi, Jurusan Meteorologi, STMKG, Jakarta
Satrya L.I., 2012, Asimilasi Data Radar Dalam Penerapan Prediksi Cuaca Numerik di Indonesia (Studi Kasus Jawa Barat), Jurusan Meteorologi, Institut Teknologi Bandung, Bandung
Ulmer, F., & Balss, U., 2016, Spin-Up Time Research on The Weather Research and Forecasting Model for Atmospheric Delay Mitigations of Electromagnetic Waves. Journal of Applied Remote Sensing, 10(1), 016027.
Warner, T. T., 2011, Numerical Weather and Climate Prediction, Cambridge University Press, United Kingdom.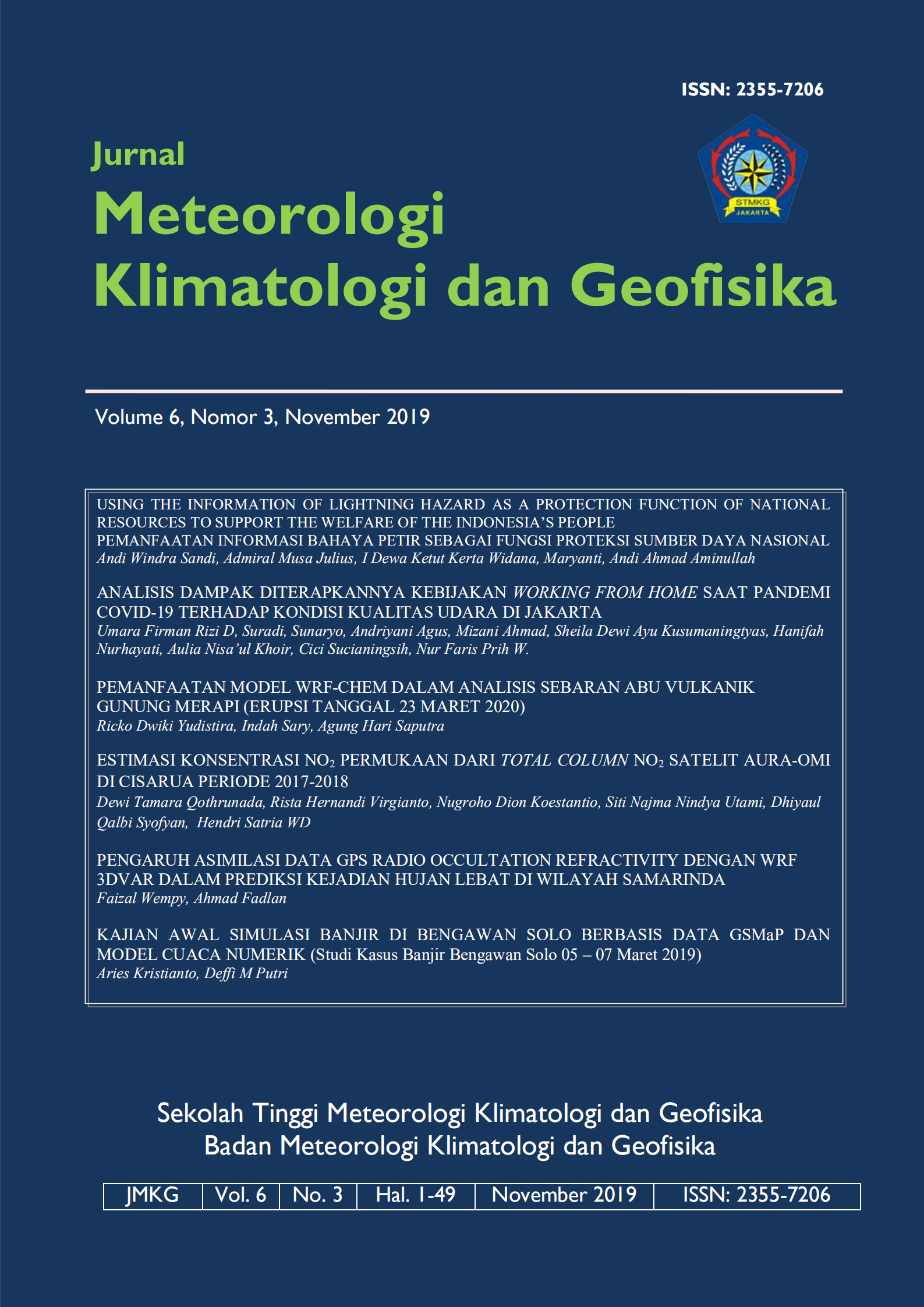 How to Cite
Faizal Wempy, & Fadlan, A. (2020). PENGARUH ASIMILASI DATA GPS RADIO OCCULTATION REFRACTIVITY DENGAN WRF 3DVAR DALAM PREDIKSI KEJADIAN HUJAN LEBAT DI WILAYAH SAMARINDA. Jurnal Meteorologi Klimatologi Dan Geofisika, 6(3), 32-38. https://doi.org/10.36754/jmkg.v6i3.143
Copyright (c) 2020 Jurnal Meteorologi Klimatologi dan Geofisika
This work is licensed under a Creative Commons Attribution-NonCommercial 4.0 International License.
Authors who publish with this journal agree to the following terms:
Authors retain copyright and grant the journal right of first publication with the work simultaneously licensed under a Creative Commons Attribution License that allows others to share the work with an acknowledgement of the work's authorship and initial publication in this journal.
Authors are able to enter into separate, additional contractual arrangements for the non-exclusive distribution of the journal's published version of the work (e.g., post it to an institutional repository or publish it in a book), with an acknowledgement of its initial publication in this journal.
Authors are permitted and encouraged to post their work online (e.g., in institutional repositories or on their website) prior to and during the submission process, as it can lead to productive exchanges, as well as earlier and greater citation of published work.