KAJIAN KECEPATAN TRANSFER GAS KARBONDIOKSIDA (CO2) SAAT SIKLON TROPIS DI LAUT SELATAN JAWA SECARA KLIMATOLOGI PADA BULAN MARET, APRIL, MEI TAHUN 2008 HINGGA 2020
Ardiansyah Desmont Puryajati

Satria Ginanjar
Keywords:
CO2 transfer speed, tropical cyclone, South Java sea, sea surface temperature, wind speed.
Abstract
Tropical cyclones can move huge amounts of heat energy from oceans into atmosphere.  The transfer of heat between oceans and atmospheres is related to the transfer of CO2 gas from oceans to atmospheres. Tropical cyclones affect the absorption of CO2 into atmosphere, where wind speed and sea surface temperatures play a role in the release of CO2 into atmosphere. The study examined how tropical cyclones affect the transfer of CO2 gas from oceans to atmosphere in the Southern sea of Java in the transition season 1, which is March, April, and May starting from 2008 to 2020. The method used in the form of analysis of atmospheric and ocean dynamics uses data components of wind speed direction u and v at altitude of 10 meters as well as sea surface temperature data. The data was obtained from the ERA5 reanalysis model which is the fifth generation of  ECMWF. The maximum speed of monthly CO2 transfer in March was 150 m/s, in April at 122.3 m/s, and in May at 122.3 m/s. The climatology results show that the speed of CO2 transfer is maximum when a tropical cyclone occurs in March and at least in tropical cyclones that occur in May.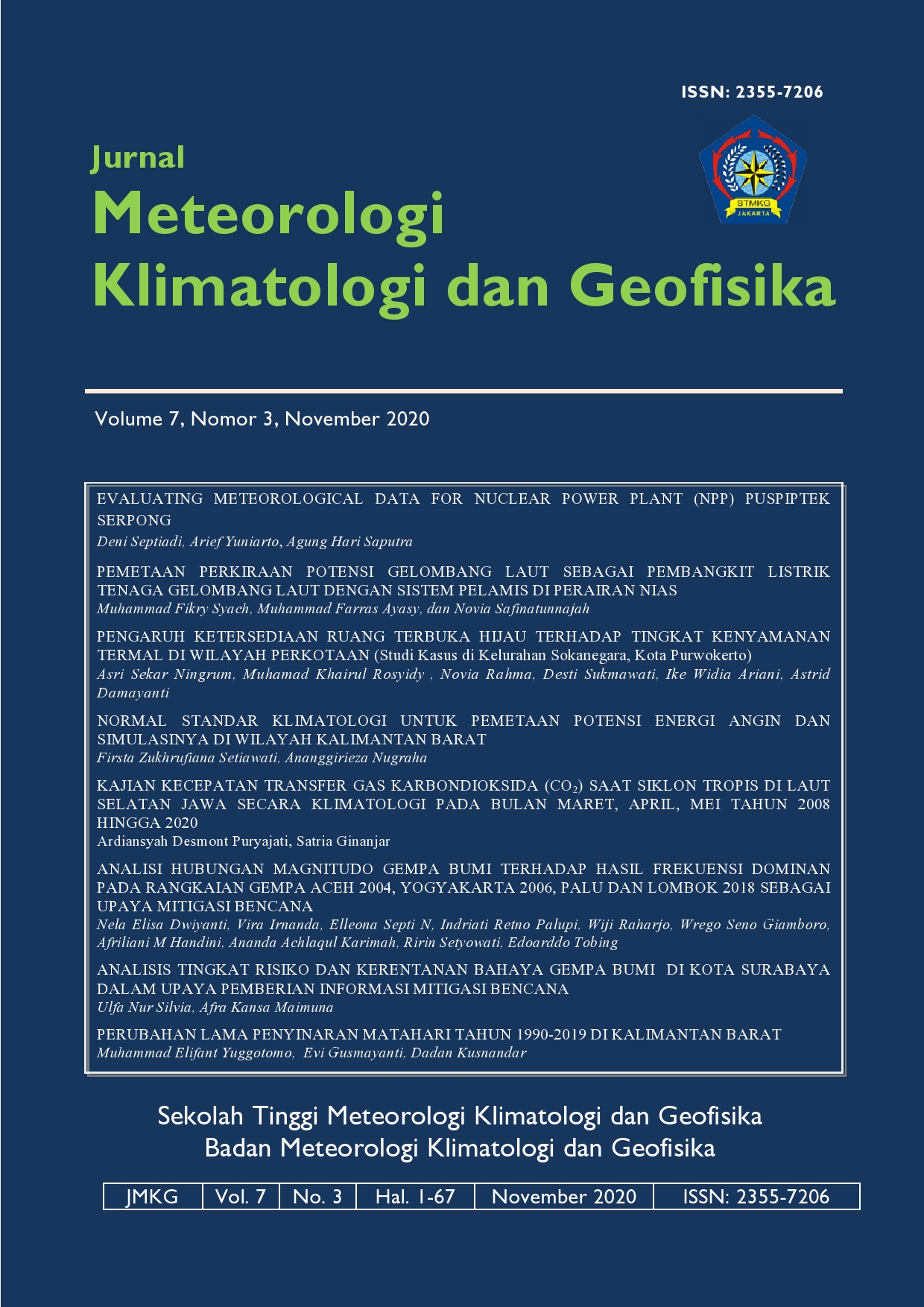 How to Cite
Ardiansyah Desmont Puryajati, & Satria Ginanjar. (2021). KAJIAN KECEPATAN TRANSFER GAS KARBONDIOKSIDA (CO2) SAAT SIKLON TROPIS DI LAUT SELATAN JAWA SECARA KLIMATOLOGI PADA BULAN MARET, APRIL, MEI TAHUN 2008 HINGGA 2020. Jurnal Meteorologi Klimatologi Dan Geofisika, 7(3), 36-43. https://doi.org/10.36754/jmkg.v7i3.202
Copyright (c) 2021 Jurnal Meteorologi Klimatologi dan Geofisika
This work is licensed under a Creative Commons Attribution-NonCommercial 4.0 International License.
Authors who publish with this journal agree to the following terms:
Authors retain copyright and grant the journal right of first publication with the work simultaneously licensed under a Creative Commons Attribution License that allows others to share the work with an acknowledgement of the work's authorship and initial publication in this journal.
Authors are able to enter into separate, additional contractual arrangements for the non-exclusive distribution of the journal's published version of the work (e.g., post it to an institutional repository or publish it in a book), with an acknowledgement of its initial publication in this journal.
Authors are permitted and encouraged to post their work online (e.g., in institutional repositories or on their website) prior to and during the submission process, as it can lead to productive exchanges, as well as earlier and greater citation of published work.