ANALISI HUBUNGAN MAGNITUDO GEMPA BUMI TERHADAP HASIL FREKUENSI DOMINAN PADA RANGKAIAN GEMPA ACEH 2004, YOGYAKARTA 2006, PALU DAN LOMBOK 2018 SEBAGAI UPAYA MITIGASI BENCANA
Nela Elisa Dwiyanti

Vira Irnanda, Elleona Septi N

Indriati Retno Palupi

Wiji Raharjo

Wrego Seno Giamboro

Afriliani M Handini

Ananda Achlaqul Karimah

Ririn Setyowati

Edoarddo Tobing
Keywords:
earthquake, fast fourier transform, frequency, magnitude
Abstract
Indonesia is located at the boundaries of three major plate of the world, namely Indo-Australia, Eurasia, and the Pacific Plates. This has made Indonesia prone to earthquakes, so mitigation are needed. The purpose of this research is to determine the empirical relationship between earthquake magnitude and dominant frequency results based on several major earthquake events in Indonesia such as in Aceh 2004, Yogyakarta 2006, Lombok and Palu 2018 as an effort to earthquake hazard mitigation in Indonesia. Magnitude carries information about earthquake power based on the energy released from the hypocenter. Physically, magnitude is related to frequency. The frequency can obtained from earthquake records in time domain which are converted to frequency domain by Fast Fourier Transform method. Earthquake data is obtained from IRIS and uses 89 events with magnitude of 4-9. In Aceh, Yogyakarta, Lombok, and Palu that relatioship between magnitude and frequency are y = -0.053x + 6.2999, y = 0.018x + 4.082, y = -0.0496x + 6.455, and y = -0.0192x + 5.3129. In this research, it can be concluded that the bigger magnitude of the earthquake has smaller frequency. The potential magnitude that appear if the seismicity are low in Aceh, Yogyakarta, Lombok, and Palu are 6.2, 4, 6.4, and 5.3.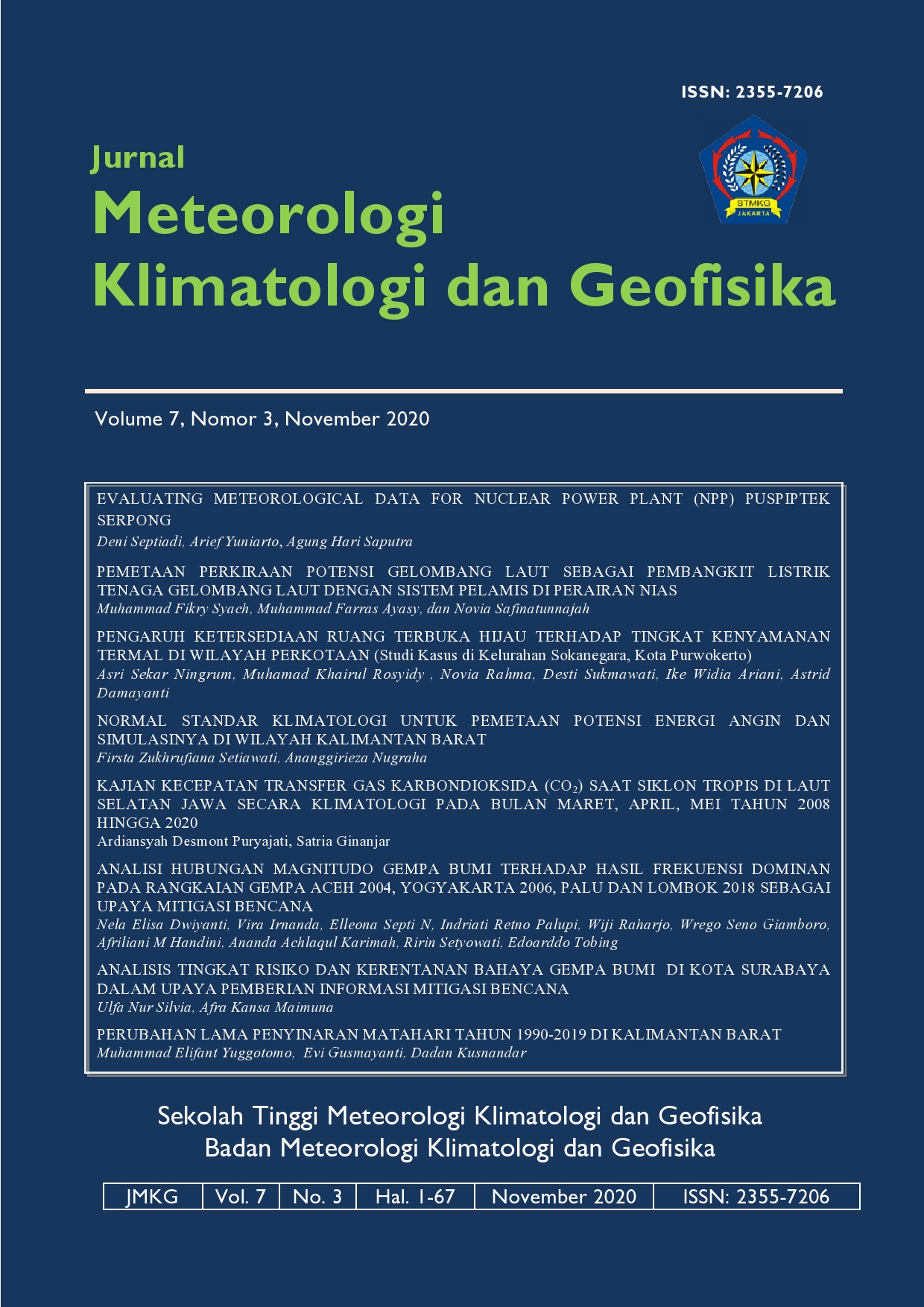 How to Cite
Nela Elisa Dwiyanti, Vira Irnanda, Elleona Septi N, Indriati Retno Palupi, Wiji Raharjo, Wrego Seno Giamboro, Afriliani M Handini, Ananda Achlaqul Karimah, Ririn Setyowati, & Edoarddo Tobing. (2021). ANALISI HUBUNGAN MAGNITUDO GEMPA BUMI TERHADAP HASIL FREKUENSI DOMINAN PADA RANGKAIAN GEMPA ACEH 2004, YOGYAKARTA 2006, PALU DAN LOMBOK 2018 SEBAGAI UPAYA MITIGASI BENCANA. Jurnal Meteorologi Klimatologi Dan Geofisika, 7(3), 44-50. https://doi.org/10.36754/jmkg.v7i3.203
Copyright (c) 2021 Jurnal Meteorologi Klimatologi dan Geofisika
This work is licensed under a Creative Commons Attribution-NonCommercial 4.0 International License.
Authors who publish with this journal agree to the following terms:
Authors retain copyright and grant the journal right of first publication with the work simultaneously licensed under a Creative Commons Attribution License that allows others to share the work with an acknowledgement of the work's authorship and initial publication in this journal.
Authors are able to enter into separate, additional contractual arrangements for the non-exclusive distribution of the journal's published version of the work (e.g., post it to an institutional repository or publish it in a book), with an acknowledgement of its initial publication in this journal.
Authors are permitted and encouraged to post their work online (e.g., in institutional repositories or on their website) prior to and during the submission process, as it can lead to productive exchanges, as well as earlier and greater citation of published work.