ANALISIS TINGKAT RISIKO DAN KERENTANAN BAHAYA GEMPA BUMI DI KOTA SURABAYA DALAM UPAYA PEMBERIAN INFORMASI MITIGASI BENCANA
Ulfa Nur Silvia

Afra Kansa Maimuna
Keywords:
Peak Gound Acceleration (PGA), McGuire, vulnerability earthquake disaster, mitigation
Abstract
Surabaya segment and Waru segment, part of Baribis-Kendeng Fold Thrust Zone that passes through Surabaya City potentially affected by earthquake hazard in the future with high population that settled there and high number of buildings. The impact of earthquake hazard can be decreased by Peak Ground Acceleration (PGA), high population density, and buildings analysis as an action of mitigation. PGA value calculated by McGuire empirical formula (1974, 1977) using historical data of earthquake in the past 50 years and the result of this value among 33,991 -29,8194 gal, this result classified as low frequency related to MMI scale that released by BMKG. The map result of PGA that related to spatial data of high population and high buildings in the Surabaya conclude that east side of Surabaya has a very high risk of earthquake vulnerability.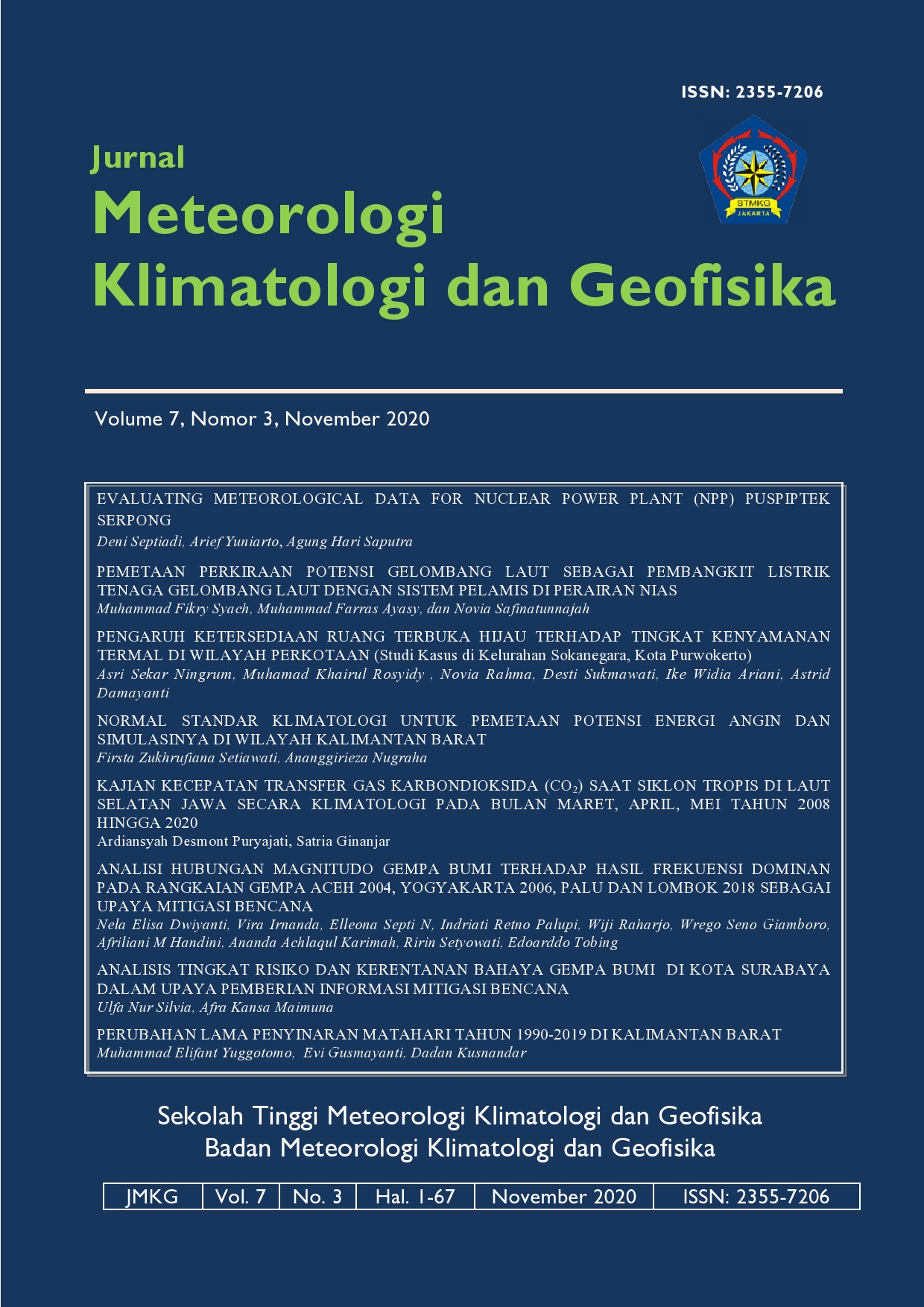 How to Cite
Ulfa Nur Silvia, & Afra Kansa Maimuna. (2021). ANALISIS TINGKAT RISIKO DAN KERENTANAN BAHAYA GEMPA BUMI DI KOTA SURABAYA DALAM UPAYA PEMBERIAN INFORMASI MITIGASI BENCANA. Jurnal Meteorologi Klimatologi Dan Geofisika, 7(3), 51-57. https://doi.org/10.36754/jmkg.v7i3.204
Copyright (c) 2021 Jurnal Meteorologi Klimatologi dan Geofisika
This work is licensed under a Creative Commons Attribution-NonCommercial 4.0 International License.
Authors who publish with this journal agree to the following terms:
Authors retain copyright and grant the journal right of first publication with the work simultaneously licensed under a Creative Commons Attribution License that allows others to share the work with an acknowledgement of the work's authorship and initial publication in this journal.
Authors are able to enter into separate, additional contractual arrangements for the non-exclusive distribution of the journal's published version of the work (e.g., post it to an institutional repository or publish it in a book), with an acknowledgement of its initial publication in this journal.
Authors are permitted and encouraged to post their work online (e.g., in institutional repositories or on their website) prior to and during the submission process, as it can lead to productive exchanges, as well as earlier and greater citation of published work.