ANALISIS STATISTIKA PENGARUH CURAH HUJAN TERHADAP BANJIR DI JAKARTA MELALUI PEMODELAN MATEMATIKA
Stephanie Stephanie

Institut Teknologi Bandung

Owen Nixon Jimawan

Institut Teknologi Bandung

Devina Jayadi

Institut Teknologi Bandung
Keywords:
floods, markov chain, rainfall, time series
Abstract
Coastal cities in Asia, including Jakarta, are struggling to counter climate changes effects, such as floods, sea level rises, storms, and the others that are able to affect human life and infrastructure. Flood is a natural disaster with the greatest frequency compared to other disasters generated by climate changes. This hydro-meteorological disaster is certainly caused by rainfall and other factors. Rainfall is a natural phenomenon that becomes the main component of the water cycle. Attention to climate changes has reinforced the need for more accurate information on statistical variations of rainfall characteristics. The statistical test confirms that a proposed model can be used to predict the amount of rainfall in a region. This paper identifies changes from the previous and current rainfall models through the rainfall chronology to predict the amount of rainfall in subsequent years using stochastic models in Jakarta, Indonesia. Data were obtained from a number of weather observation stations in the study area for the 10 year period ranging from 2007 to 2017. Analysis was also conducted to explain the use of first-order Markov chain modeling for rainfall measurement. The limitations of the Markov chain model still indicates uncertainties for some cases, so they can be overcome by trying to develop a time series model to improve the previous modeling. The data that has been modeled will be compared with meteorological analysis to observe the relation with flood disasters. This analysis and modeling can be modified and applied to predict rainfall in other regions with similar topography and climate after a number of statistical tests were executed.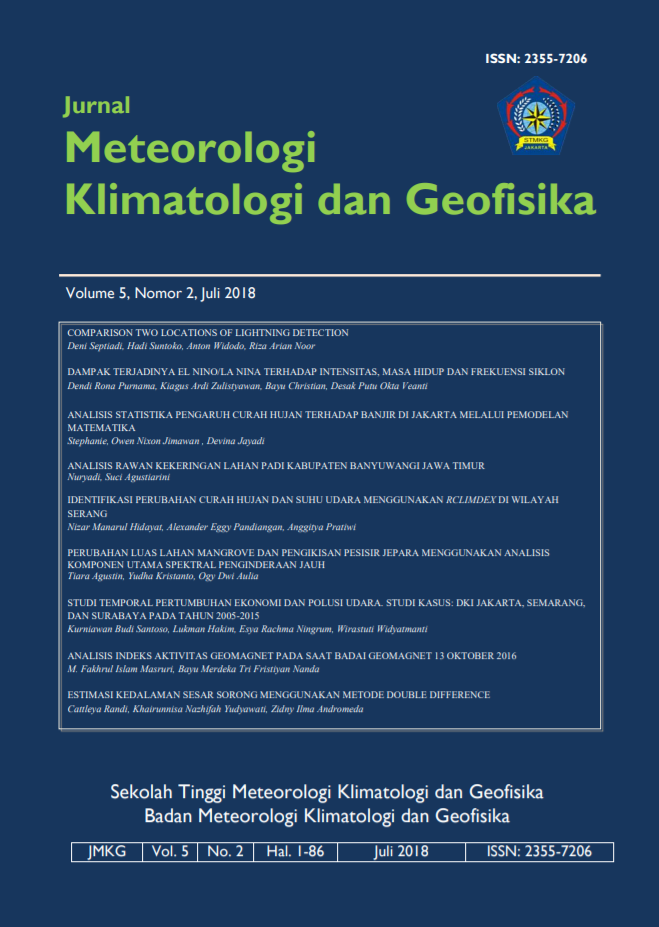 How to Cite
Stephanie, S., Jimawan, O. N., & Jayadi, D. (2019). ANALISIS STATISTIKA PENGARUH CURAH HUJAN TERHADAP BANJIR DI JAKARTA MELALUI PEMODELAN MATEMATIKA. Jurnal Meteorologi Klimatologi Dan Geofisika, 5(2), 22-28. https://doi.org/10.36754/jmkg.v5i2.55
Copyright (c) 2019 Jurnal Meteorologi Klimatologi dan Geofisika
This work is licensed under a Creative Commons Attribution-NonCommercial 4.0 International License.
Authors who publish with this journal agree to the following terms:
Authors retain copyright and grant the journal right of first publication with the work simultaneously licensed under a Creative Commons Attribution License that allows others to share the work with an acknowledgement of the work's authorship and initial publication in this journal.
Authors are able to enter into separate, additional contractual arrangements for the non-exclusive distribution of the journal's published version of the work (e.g., post it to an institutional repository or publish it in a book), with an acknowledgement of its initial publication in this journal.
Authors are permitted and encouraged to post their work online (e.g., in institutional repositories or on their website) prior to and during the submission process, as it can lead to productive exchanges, as well as earlier and greater citation of published work.