ANALISIS RAWAN KEKERINGAN LAHAN PADI KABUPATEN BANYUWANGI JAWA TIMUR
Nuryadi Nuryadi

Sekolah Tinggi Meteorologi Klimatologi dan Geofisika

Suci Agustiarini

Badan Meteorologi Klimatologi dan Geofisika
Keywords:
oldeman, groundwater available, drought rate
Abstract
In general, the definition of drought is the availability of water that is less than the need for water for the necessities of life, agriculture, economic activity, and environment. Associated with food production, agricultural drought is very influential on cultivation activities on food production in a region. Groundwater availability is essential to determine the level of drought-prone rice fields in Banyuwangi District. The data used are monthly rainfall period 1981-2010 from 32 rain post and BKMG station in Banyuwangi Regency. Drought level analysis using available groundwater weighting and Oldeman climate type on each rain post. Banyuwangi Regency based on Oldeman climate classification is divided into 9 climate types ranging from wet climate (B1) to dry (D and E). In February, March, and April the availability of ground water is higher than in other months, whereas August, September and October have the lowest groundwater availability. The western part of Banyuwangi has more water available than the eastern part. The degree of dryness of paddy land varies temporally and spatially from very vulnerable to safe. The dry and prone levels of peak rice dryness occur in September and October with the widest coverage of the area. Most of the areas experiencing safe levels for paddy fields are in January, February, March and April.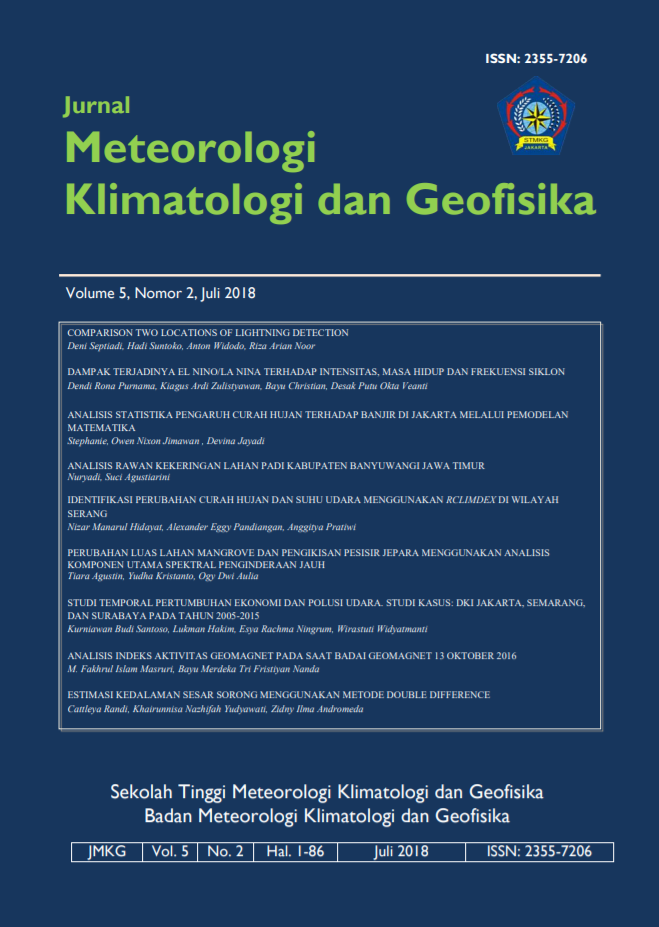 How to Cite
Nuryadi, N., & Agustiarini, S. (2019). ANALISIS RAWAN KEKERINGAN LAHAN PADI KABUPATEN BANYUWANGI JAWA TIMUR. Jurnal Meteorologi Klimatologi Dan Geofisika, 5(2), 29-36. https://doi.org/10.36754/jmkg.v5i2.56
Copyright (c) 2019 Jurnal Meteorologi Klimatologi dan Geofisika
This work is licensed under a Creative Commons Attribution-NonCommercial 4.0 International License.
Authors who publish with this journal agree to the following terms:
Authors retain copyright and grant the journal right of first publication with the work simultaneously licensed under a Creative Commons Attribution License that allows others to share the work with an acknowledgement of the work's authorship and initial publication in this journal.
Authors are able to enter into separate, additional contractual arrangements for the non-exclusive distribution of the journal's published version of the work (e.g., post it to an institutional repository or publish it in a book), with an acknowledgement of its initial publication in this journal.
Authors are permitted and encouraged to post their work online (e.g., in institutional repositories or on their website) prior to and during the submission process, as it can lead to productive exchanges, as well as earlier and greater citation of published work.