STUDI TEMPORAL PERTUMBUHAN EKONOMI DAN POLUSI UDARA. STUDI KASUS: DKI JAKARTA, SEMARANG, DAN SURABAYA PADA TAHUN 2005-2015
Kurniawan Budi Santoso

Universitas Gadjah Mada

Lukman Hakim

Universitas Gadjah Mada

Esya Racha Ningrum

Universitas Gadjah Mada

Wirastuti Widyatmanti

Universitas Gadjah Mada
Keywords:
aerosol optical thickness, environmental kuznet curve, gross regional domestic product, industry, land use
Abstract
Indonesia is projected to be one among dominating forces in Asian market by 2050. However, the process of economic growth tends to affect the environmental conditions. Hence, the relationship between economic growth and environmental impacts becomes important to be examined so that the stakeholder could apply the best regulations. This study aims to examine the effect of the intensity of economic activity on the environment through the parameters of Gross Regional Domestic Product (GRDP) as economic parameters and Aerosol Optical Thickness (AOT) as environmental pollution parameters in three big cities in Indonesia: Jakarta, Semarang, and Surabaya during 2005 -2015. The method used in the relationship assessment is the statistical analysis of regression. The scatter diagram of the regression results is then matched with Environtmental Kuznet Curve (EKC) hypothesis. We then analyze further the relationship between GRDP and AOT using following approaches 1) Persentage contribution of each economic sector to GRDP; and 2) Land use dynamics in the cities. The result showed that the relation between AOT and PDRB in the three study sites took the 3rd order polynomial form with tendency of increasing in DKI Jakarta and Semarang and decreasing in Surabaya. The highest value of R2 was found in Semarang at 0.7074, DKI Jakarta at 0.5223, and Surabaya at 0.414. Based on the EKC hypothesis, it is known that industrial development of Semarang is in Pre-Industrial stage, while DKI Jakarta in Industrial stage, and Surabaya City at Post Industrial stage. The result of analysis shows that the value of AOT is not only related to the industrial sector by number of economic value, but also industrial sector viewed at spatial perspective.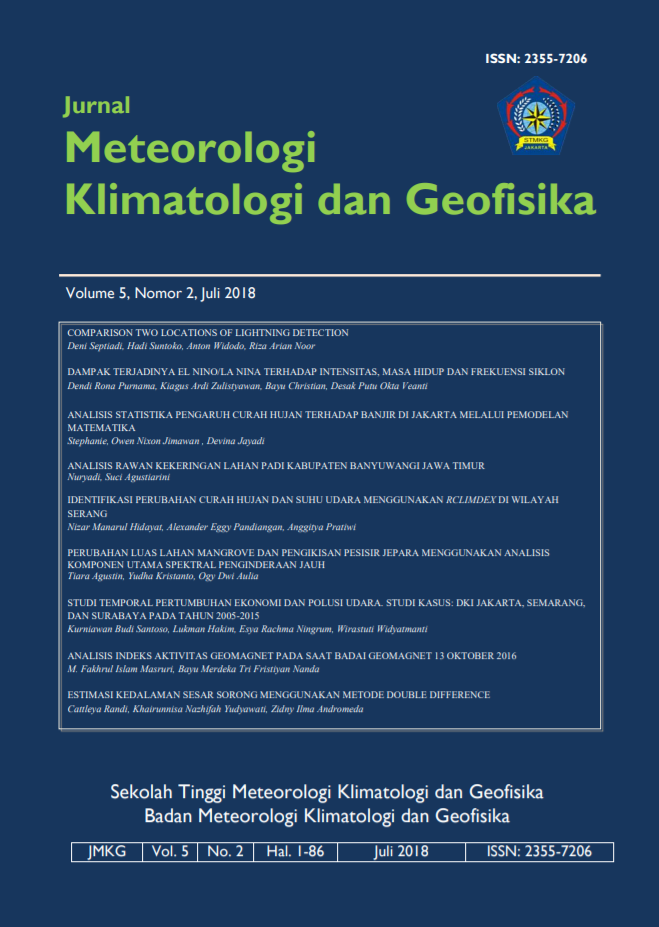 How to Cite
Santoso, K. B., Hakim, L., Ningrum, E. R., & Widyatmanti, W. (2019). STUDI TEMPORAL PERTUMBUHAN EKONOMI DAN POLUSI UDARA. STUDI KASUS: DKI JAKARTA, SEMARANG, DAN SURABAYA PADA TAHUN 2005-2015. Jurnal Meteorologi Klimatologi Dan Geofisika, 5(2), 54-70. https://doi.org/10.36754/jmkg.v5i2.59
Copyright (c) 2019 Jurnal Meteorologi Klimatologi dan Geofisika
This work is licensed under a Creative Commons Attribution-NonCommercial 4.0 International License.
Authors who publish with this journal agree to the following terms:
Authors retain copyright and grant the journal right of first publication with the work simultaneously licensed under a Creative Commons Attribution License that allows others to share the work with an acknowledgement of the work's authorship and initial publication in this journal.
Authors are able to enter into separate, additional contractual arrangements for the non-exclusive distribution of the journal's published version of the work (e.g., post it to an institutional repository or publish it in a book), with an acknowledgement of its initial publication in this journal.
Authors are permitted and encouraged to post their work online (e.g., in institutional repositories or on their website) prior to and during the submission process, as it can lead to productive exchanges, as well as earlier and greater citation of published work.