ANALISIS INDEKS AKTIVITAS GEOMAGNET PADA SAAT BADAI GEOMAGNET 13 OKTOBER 2016
M. Fakhrul Islam Masruri

Sekolah Tinggi Meteorologi Klimatologi dan Geofisika

Bayu Merdeka Tri Fristiyan Nanda

Sekolah Tinggi Meteorologi Klimatologi dan Geofisika
Keywords:
index, geomagnetic, storm
Abstract
Geomagnetic storms occur due to abnormal activity in the sun that affects the intensity of the solar wind. This storm is marked by changes in the value of daily variations of a large, fast and irregular magnetic field. The effects of geomagnetic storms around the earth can have an impact on human activity in outer space and on the earth's surface. One of the occurrences of geomagnetic storm ever recorded is on October 13, 2016. In determining the level of geomagnetic disturbance used geomagnetic index. The geomagnetic index is a simple measure that describes the magnetic activity derived from the ionosphere and the earth's magnetosphere. This study aims to analyze the geomagnetic index when the storm occurred on October 13, 2016. Geomagnetic indexes analyzed include K index, A index and Dst index, especially in the region of Sumatra. The data used are daily variation data of H (horizontal) magnetic field component of BMKG magnetometer sensor record at Gunungsitoli station, Tuntungan station, Sicincin station, Liwa station and Tangerang station. Based on the results of the analysis can be identified if the geomagnetic storm on October 13, 2016 includes strong geomagnetic storm criteria when viewed from the Dst index value that touches the number below -100 nT.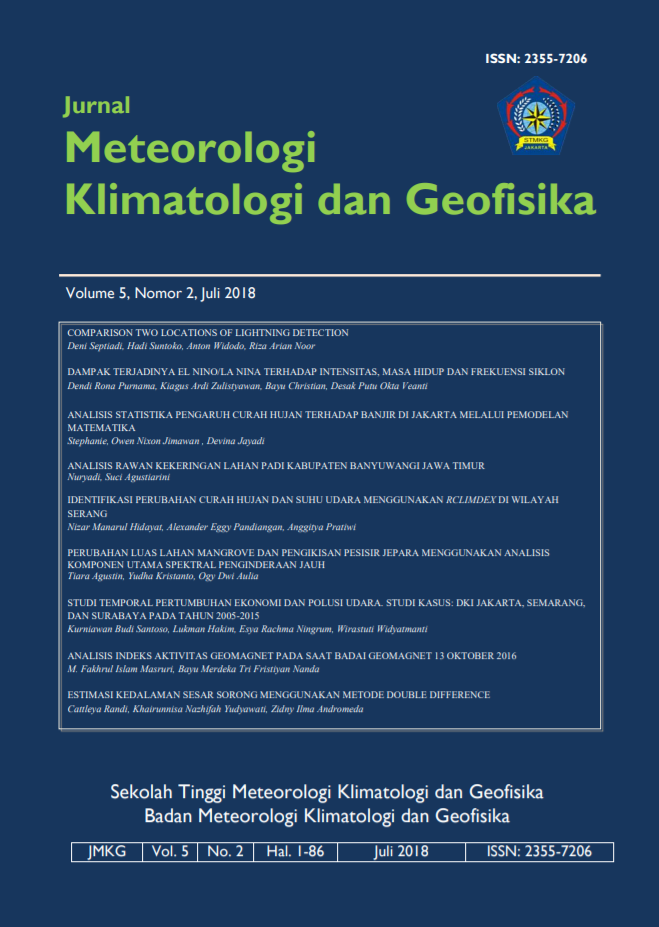 How to Cite
Islam Masruri, M. F., & Tri Fristiyan Nanda, B. M. (2019). ANALISIS INDEKS AKTIVITAS GEOMAGNET PADA SAAT BADAI GEOMAGNET 13 OKTOBER 2016. Jurnal Meteorologi Klimatologi Dan Geofisika, 5(2), 71-78. https://doi.org/10.36754/jmkg.v5i2.60
Copyright (c) 2019 Jurnal Meteorologi Klimatologi dan Geofisika
This work is licensed under a Creative Commons Attribution-NonCommercial 4.0 International License.
Authors who publish with this journal agree to the following terms:
Authors retain copyright and grant the journal right of first publication with the work simultaneously licensed under a Creative Commons Attribution License that allows others to share the work with an acknowledgement of the work's authorship and initial publication in this journal.
Authors are able to enter into separate, additional contractual arrangements for the non-exclusive distribution of the journal's published version of the work (e.g., post it to an institutional repository or publish it in a book), with an acknowledgement of its initial publication in this journal.
Authors are permitted and encouraged to post their work online (e.g., in institutional repositories or on their website) prior to and during the submission process, as it can lead to productive exchanges, as well as earlier and greater citation of published work.