APLIKASI PENGINDERAAN JAUH DAN SIG DENGAN METODE ANALYTICAL HIERARCHY PROCESS UNTUK KAJIAN KERAWANAN BANJIR DI DAS JALI COKROYASAN PURWOREJO
Bayu Aji Sidiq Pramono

Universitas Gadjah Mada

Karunia Pasya Kusumawardani

Universitas Gadjah Mada

Emy Puspita Yuendini

Universitas Gadjah Mada
Keywords:
flood, Jali Cokroyasan Watershed, remote sensing, GIS, suseptibility
Abstract
Hydrometeorological disaster is a disaster that is affected by meteorological parameters covering weather aspects such as rainfall, wind, temperature, and humidity. One of the hydrometeorological disasters occurring in Indonesia is flooding. In the last 8 years, there have been floods in the Jali Cokroyasan watershed that flooded some Purworejo regency. This research was conducted to determine the level of flood suseptibilty in Jali Cokroyasan watershed. The use of remote sensing technology and Geographic Information System (GIS) was applied to mapping the level of flood suseptibilty in Jali Cokroyasan watershed. Parameters used include rainfall, land use, slope, and landform. Rainfall data obtained from the Department of Agriculture Husbandry Marine and Fisheries Purworejo District. Land use data were obtained from Landsat 8 OLI image then processed based on unsupervised multispectral classification. The slope slope data is extracted from DEM ALOS PALSAR with 10 m resolution. Landform data is generated from visual interpretations of  DEM ALOS PALSAR and Landsat 8 OLI image. All parameters are processed by spatial analysis based on the Analytical Hierarchy Process (AHP) skoring method and Spatial Multi Criteria Evaluation (SMCE) overlay method. Model testing is conducted with the method of in depth interview. The results of the analysis is the map of flood suseptibility in Jali Cokroyasan watershed. Based on the map, downstream watershed approaching watershed outlets become areas prone to flood disaster because downstream downstream has a sloping topography. Zoning of vulnerability on the map is expected to be considered in tackling flood risks, increasing community capacity, and minimizing disaster losses.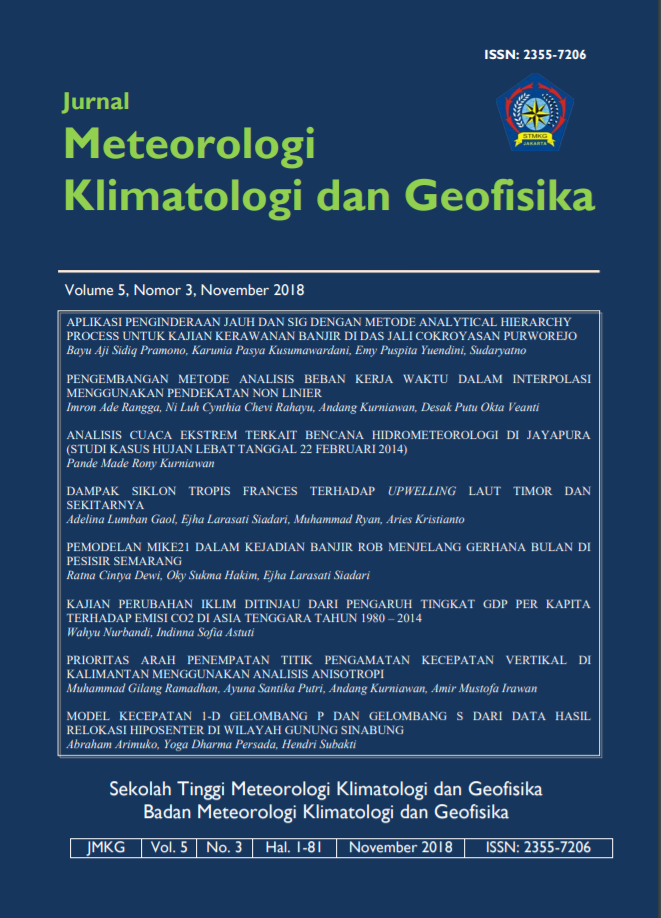 How to Cite
Sidiq Pramono, B. A., Pasya Kusumawardani, K., & Yuendini, E. (2019, April 29). APLIKASI PENGINDERAAN JAUH DAN SIG DENGAN METODE ANALYTICAL HIERARCHY PROCESS UNTUK KAJIAN KERAWANAN BANJIR DI DAS JALI COKROYASAN PURWOREJO. Jurnal Meteorologi Klimatologi Dan Geofisika, 5(3), 1-10. https://doi.org/https://doi.org/10.36754/jmkg.v5i3.70
This work is licensed under a Creative Commons Attribution-NonCommercial 4.0 International License.
Authors who publish with this journal agree to the following terms:
Authors retain copyright and grant the journal right of first publication with the work simultaneously licensed under a Creative Commons Attribution License that allows others to share the work with an acknowledgement of the work's authorship and initial publication in this journal.
Authors are able to enter into separate, additional contractual arrangements for the non-exclusive distribution of the journal's published version of the work (e.g., post it to an institutional repository or publish it in a book), with an acknowledgement of its initial publication in this journal.
Authors are permitted and encouraged to post their work online (e.g., in institutional repositories or on their website) prior to and during the submission process, as it can lead to productive exchanges, as well as earlier and greater citation of published work.