PENGEMBANGAN METODE ANALISIS BEBAN KERJA WAKTU DALAM INTERPOLASI MENGGUNAKAN PENDEKATAN NON LINIER
Imron Ade Rangga

Sekolah Tinggi Meteorologi Klimatologi dan Geofisika

Ni Luh Cynthia Chevi Rahayu

Sekolah Tinggi Meteorologi Klimatologi dan Geofisika

Andang Kurniawan

Sekolah Tinggi Meteorologi Klimatologi dan Geofisika

Desak Putu Okta Veanti

Sekolah Tinggi Meteorologi Klimatologi dan Geofisika
Keywords:
time, workload, interpolation
Abstract
Computational time for spatial interpolation is important to manage meteorological information effectively and efficiently. Therefore, this study aims to analyze the workload of computational time and gets the formulation for computational time based on three parameters: important numbers, resolutions, and the number of initial data points. Data used in this study is generated randomly by the 'runif' function in software R. The random data has 0, 3, and 6 decimal numbers. The number of points used is 10, 50, 100, 200, 500, 1000, 1500, 2000, 3000, 5000 and 8000 with the output resolution varies as follows: 0.5, 0.25, 0.05, 0.01 and 0.005. Consequently, the data are processed using different type of hardwares and softwares, and executed for Inverse Distance Weighted (IDW) interpolation. The computational time can be calculated by the point number (n) and resolution (r) values. The result shows that the time length (T) can be approximated by the equation: . Where the constants C1, C2, C3 and C4 differ according to software and hardware specifications. Using this approach, the computational time for spatial interpolation is expected to be studied better.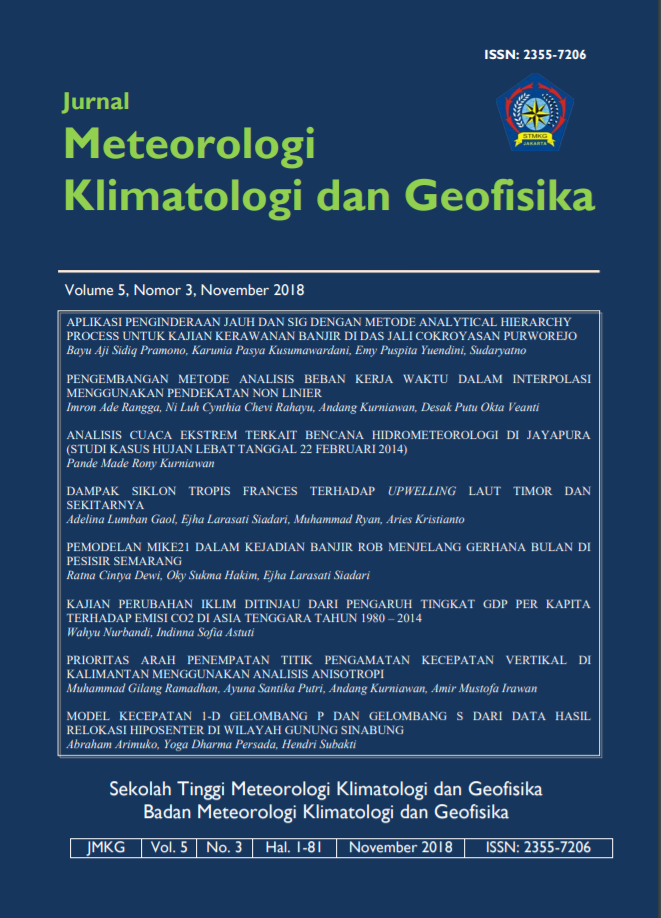 How to Cite
Rangga, I., Cynthia Chevi Rahayu, N. L., Kurniawan, A., & Okta Veanti, D. P. (2019, April 29). PENGEMBANGAN METODE ANALISIS BEBAN KERJA WAKTU DALAM INTERPOLASI MENGGUNAKAN PENDEKATAN NON LINIER. Jurnal Meteorologi Klimatologi Dan Geofisika, 5(3), 11-24. https://doi.org/https://doi.org/10.36754/jmkg.v5i3.71
This work is licensed under a Creative Commons Attribution-NonCommercial 4.0 International License.
Authors who publish with this journal agree to the following terms:
Authors retain copyright and grant the journal right of first publication with the work simultaneously licensed under a Creative Commons Attribution License that allows others to share the work with an acknowledgement of the work's authorship and initial publication in this journal.
Authors are able to enter into separate, additional contractual arrangements for the non-exclusive distribution of the journal's published version of the work (e.g., post it to an institutional repository or publish it in a book), with an acknowledgement of its initial publication in this journal.
Authors are permitted and encouraged to post their work online (e.g., in institutional repositories or on their website) prior to and during the submission process, as it can lead to productive exchanges, as well as earlier and greater citation of published work.