ANALISIS CUACA EKSTREM TERKAIT BENCANA HIDROMETEOROLOGI DI JAYAPURA (STUDI KASUS HUJAN LEBAT TANGGAL 22 FEBRUARI 2014)
Pande Made Rony Kurniawan

Badan Meteorologi Klimatologi dan Geofisika
Keywords:
extreme weather, hydrometeorological disasters, weather analysis
Abstract
Rain with intensity 240.0 mm which occurred on February 22, 2014 in Jayapura, causing floods and landslides in several districts. Weather analysis is required to determine various meteorological factors and to improve preparedness and for reduce the impact of damage and losses due to hydro-meteorological disasters. Data of Sea surface temperatures, sea surface temperature anomaly, southern oscillation index and wind map are visual interpreted. MTSAT Satellite data is processed using SATAID application to generate images and time series graphics of cloud top temperature and cloud top height. Zonal and meridional wind component and relative humidity data are processed using 1.9.0 Grads program to generate vorticity, wind patterns and humidity of each layer of air. Upper air observation data processed using Raob 5.7 application to get the indices of the air stability. The analysis result suggest that clouds development in the Jayapura area caused by Intertropical Convergence Zone, warm sea surface temperatures, high humidity in the air layer and unstable of air thus affects heavy rains  in Jayapura. Satellite imagery analysis can suggest the value and patterns that can be used as an indication of clouds development caused heavy rains.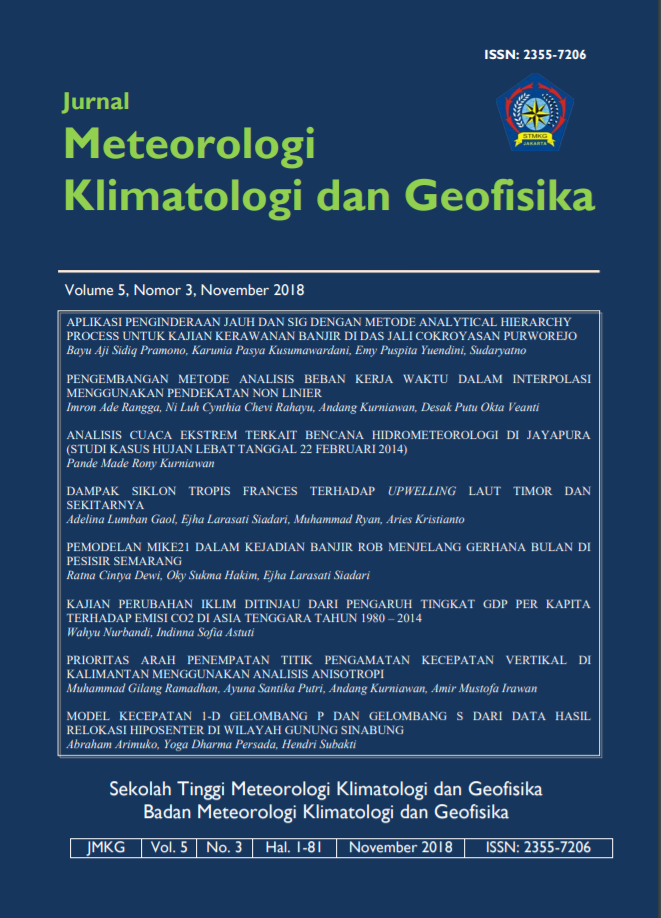 How to Cite
Rony Kurniawan, P. M. (2019, April 29). ANALISIS CUACA EKSTREM TERKAIT BENCANA HIDROMETEOROLOGI DI JAYAPURA (STUDI KASUS HUJAN LEBAT TANGGAL 22 FEBRUARI 2014). Jurnal Meteorologi Klimatologi Dan Geofisika, 5(3), 25-36. https://doi.org/https://doi.org/10.36754/jmkg.v5i3.72
This work is licensed under a Creative Commons Attribution-NonCommercial 4.0 International License.
Authors who publish with this journal agree to the following terms:
Authors retain copyright and grant the journal right of first publication with the work simultaneously licensed under a Creative Commons Attribution License that allows others to share the work with an acknowledgement of the work's authorship and initial publication in this journal.
Authors are able to enter into separate, additional contractual arrangements for the non-exclusive distribution of the journal's published version of the work (e.g., post it to an institutional repository or publish it in a book), with an acknowledgement of its initial publication in this journal.
Authors are permitted and encouraged to post their work online (e.g., in institutional repositories or on their website) prior to and during the submission process, as it can lead to productive exchanges, as well as earlier and greater citation of published work.