PRIORITAS ARAH PENEMPATAN TITIK PENGAMATAN KECEPATAN VERTIKAL DI KALIMANTAN MENGGUNAKAN ANALISIS ANISOTROPI
Muhammad Gilang Ramadhan

Sekolah Tinggi Meteorologi Klimatologi dan Geofisika

Ayuna Santika Putri

Sekolah Tinggi Meteorologi Klimatologi dan Geofisika

Andang Kurniawan

Sekolah Tinggi Meteorologi Klimatologi dan Geofisika

Amir Mustofa Irawan

Sekolah Tinggi Meteorologi Klimatologi dan Geofisika
Keywords:
Borneo Island, smoke, vertical velocity, anisotropy
Abstract
The existence of the forest as lungs of the world played an important role in generating oxygen gas. Borneo island is one of the world's lungs because of the extensive forests that reached 40.8 million hectares. However, at present the quality and quantity of forest on the island of Borneo precipitously due to deforestation and forest fires. Forest fires on the island of Borneo into the world spotlight because of the spread of the smoke caused air pollution in various regions of Indonesia. The impact of the spread of smoke of forest fires was influenced by the vertical wind speed in the area. This research aims to add a consideration in determining the vertical wind speed observation point on the island of Borneo, making known the priority distribution of the placement of the observation point can be used as mitigation efforts the spread of the forest fire smoke. The vertical wind speed data island of Borneo in June and October starting in 2008 – 2017 is presented in the form of spatial. The wind data analysis using the method of variogram surface with the software SAGA. Based on the analysis of anisotropy, obtained the results that the vertical wind speed observations on Borneo Island tend to have priority East-West direction in June to August, the priority of the Southeast-Northwest in September, and priority direction of Northeast-Southwest in October. Analysis and modeling of vertical wind speed on the island of Borneo in general get the dominant patterns of the East-West direction priority, so the priority placement of vertical velocity observations point on the island of Borneo is effective if it forms oval pattern which extends from North to South.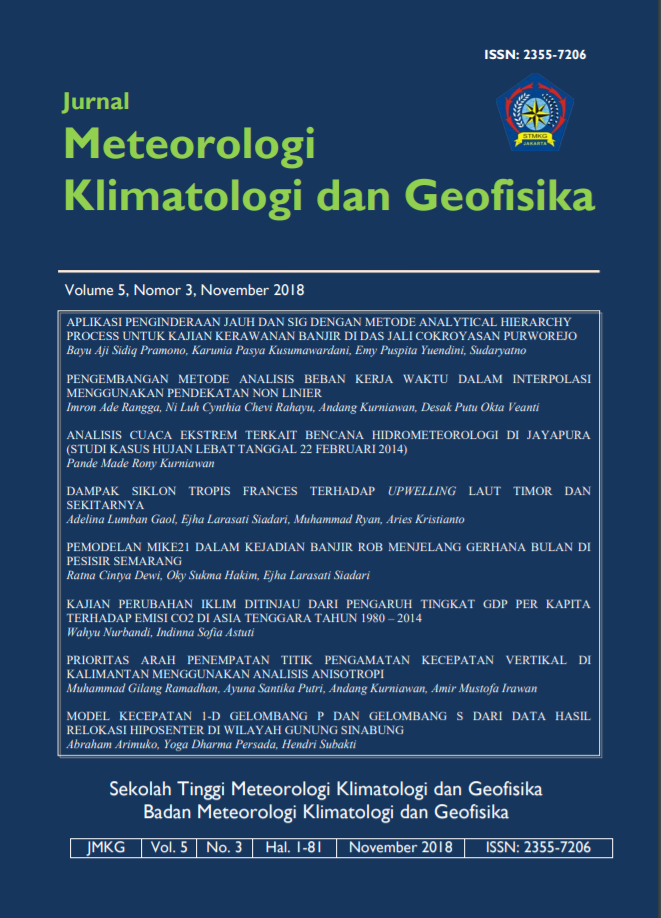 How to Cite
Ramadhan, M., Putri, A., Kurniawan, A., & Irawan, A. (2019, April 29). PRIORITAS ARAH PENEMPATAN TITIK PENGAMATAN KECEPATAN VERTIKAL DI KALIMANTAN MENGGUNAKAN ANALISIS ANISOTROPI. Jurnal Meteorologi Klimatologi Dan Geofisika, 5(3), 63-71. https://doi.org/https://doi.org/10.36754/jmkg.v5i3.76
This work is licensed under a Creative Commons Attribution-NonCommercial 4.0 International License.
Authors who publish with this journal agree to the following terms:
Authors retain copyright and grant the journal right of first publication with the work simultaneously licensed under a Creative Commons Attribution License that allows others to share the work with an acknowledgement of the work's authorship and initial publication in this journal.
Authors are able to enter into separate, additional contractual arrangements for the non-exclusive distribution of the journal's published version of the work (e.g., post it to an institutional repository or publish it in a book), with an acknowledgement of its initial publication in this journal.
Authors are permitted and encouraged to post their work online (e.g., in institutional repositories or on their website) prior to and during the submission process, as it can lead to productive exchanges, as well as earlier and greater citation of published work.