RANCANG BANGUN SOLAR TRACKER OTOMATIS PADA PENGISIAN ENERGI PANEL SURYA BEBASIS INTERNET OF THINGS
Alfin Syarifuddin Syahab

Hanif Cahyo Romadhon

M. Luqman Hakim
Keywords:
Sun light, electrical energy, solar tracker, microcontroller, internet.
Abstract
Indonesia is a tropical country that receives optimum level of sunlight on the surface of earth. In other hand, the needs of electrical energy increase because of population growth and technological development. it causes needs of a alternative energy. One of inovation to get electrical energy is from sunlight using solar panels. Solar panel is instrument that can convert heat energy from sun to electrical energy. Solar panel will absorb power as same as intensity of sunlight that is received. But there are still many static solar panels. So the power is not optimum when using static solar panels because of low receiving. This experiment has purpose to create instrument that is capable to absorb emission of sunlight optimally using system of solar tracker based on microcontroller 2560. This system of solar tracker is capable to receive momentary average of electrical energy is 9.333 Watts while the momentary average of electrical energy in static solar panel is 0.8 Watts. These results of monitoring are sent to user using communication system based on internet with realtime data. The data can be displayed in website thingspeak.com and application android virtuino.
References
Maulidya, Ririn., 2018, Analisis Perbandingan Efisiensi Panel Surya Berbasis Sistem Pelacak Matahari dengan Panel Surya Tetap, Skripsi, Program Sarjana Terapan Instrumentasi, Sekolah Tinggi Meteorologi Klimatologi dan Geofisika, Tangerang Selatan.
Midriem Mirdanies, Rizqi Andry A, Hendri Maja Saputra, Aditya Sukma Nugraha, Estiko Rijanto, Adi Santoso., 2011, Rancang Bangun Sistem Kontrol Mekanisme Pelacakan Matahari Beserta Fasilitas Telekontrol Hemat Energi, Pusat Penelitian Tenaga Listrik dan Mekatronik - LIPI Komp, Bandung.
M, Syamsuddin., 2014, Membuat Sendiri Pembangkit Listrik Tenaga Surya, Bukudigital.net dan Google Book Publisher.
Akibat Gerak Semu Matahari, 2018, https://ilmugeografi.com/ilmu-bumi/meteorologi/akibat-gerak-semu-matahari, diakses 19 Februari 2019.
Sigit Nurharsanto, Adhy Prayitno., 2017, Sun Tracking Otomatis Untuk Pembangkit Listrik Tenaga Surya, Universitas Riau.
Saldi Eko Dwi Saputro, Yandri, Kho Hie Khwee., 2017, Analisis Perencanaan Pembangkit Listrik Tenaga Surya Berbantuan Program System Sizing Estimator, Universitas Tanjungpura.
Noer Soedjarwanto dan Osea Zebua., 2015, Sistem Pelacak Otomatis Energi Surya Berbasis Mikrokontroler ATMega8535, Universitas Lampung.
Mengenal Fritzing dan Express PCB, 2016, https://sunupradana.info/pe/2016/10/15/mengenal-fritzing-dan-expresspcb/, diakses 15 Maret 2019.
Andriani Parastiwi, Ratna Ika Putri, Supriatna Adhisuwignjo, dan Muhamad Rifa'i., 2018, Photovoltaic Terapan Teknologi dan Implementasi, UPT Percetakan dan Penerbitan Polinema.
Mengenal Platform IoT, 2017, http://sh4retech.blogspot.com/2017/03/mengenal-platform-iot.html, diakses 19 Februari 2019.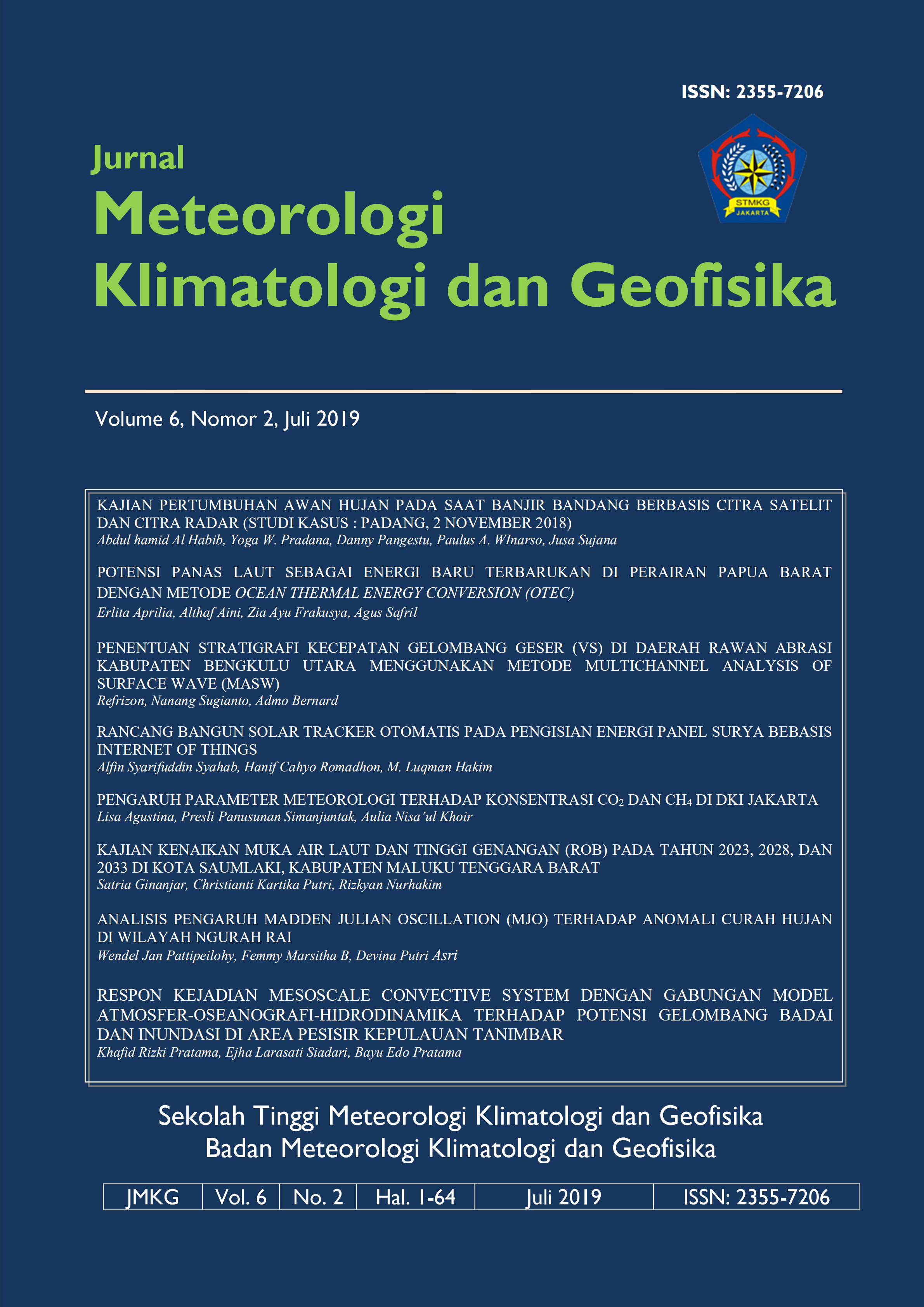 How to Cite
Syahab, A. S., Romadhon, H. C., & Hakim, M. L. (2019). RANCANG BANGUN SOLAR TRACKER OTOMATIS PADA PENGISIAN ENERGI PANEL SURYA BEBASIS INTERNET OF THINGS. Jurnal Meteorologi Klimatologi Dan Geofisika, 6(2), 21-29. https://doi.org/10.36754/jmkg.v6i2.120
Copyright (c) 2019 Jurnal Meteorologi Klimatologi dan Geofisika
This work is licensed under a Creative Commons Attribution-NonCommercial 4.0 International License.
Authors who publish with this journal agree to the following terms:
Authors retain copyright and grant the journal right of first publication with the work simultaneously licensed under a Creative Commons Attribution License that allows others to share the work with an acknowledgement of the work's authorship and initial publication in this journal.
Authors are able to enter into separate, additional contractual arrangements for the non-exclusive distribution of the journal's published version of the work (e.g., post it to an institutional repository or publish it in a book), with an acknowledgement of its initial publication in this journal.
Authors are permitted and encouraged to post their work online (e.g., in institutional repositories or on their website) prior to and during the submission process, as it can lead to productive exchanges, as well as earlier and greater citation of published work.