KAJIAN KENAIKAN MUKA AIR LAUT DAN TINGGI GENANGAN (ROB) PADA TAHUN 2023, 2028, DAN 2033 DI KOTA SAUMLAKI, KABUPATEN MALUKU TENGGARA BARAT
Satria Ginanjar

Christianti Kartika Putri

Rizkyan Nurhakim
Keywords:
sea level rise, tidal, coastline changes, Saumlaki, tidal inundation
Abstract
Saumlaki is located in Southeast Maluku Regency, precisely on Yamdena Island. The city is located in the coastal area which makes it in direct contact with external conditions such as tides. The subduction of the Indo-Australian and Eurasian plates is located in the northwest of Saumlaki, makes its sea level more vulnerable to changes. The objective of this research is to determine the substantial of sea level rise based on the analysis of tidal data in 2014-2018 and to predict the height of tidal inundation in 2023, 2028, and 2033. The method used in this research is the quantitative method based of case study. This research uses Saumlaki tidal data that was obtained from BIG, which is then processed to obtain monthly and annual Mean Sea Level values. Based on the research, it is known that the rate of sea level rise in Saumlaki is 3.75cm/year and belongs to the type of Mixed Semi-Diurnal with Formzahl numbers in 2018 = 0.602, MSL value = 383cm, LLWL value = 226.4cm, HHWL value = 541cm, and the value of ZO = 314cm. Inundation prediction in Saumlaki in 2023 = 175.75cm, in 2028 = 194.5cm, and in 2033 = 213.25cm.
References
1Prawiradisastra, S., 2011. Analisis Kerawanan dan Kerentanan Bencana Gempabumi dan Tsunami untuk Perencanaan Wilayah di Kabupaten Maluku Tenggara Barat. Jurnal Sains dan Teknologi Indonesia 13 (2): 103-107.
2Syah, A. F., 2013. Pengukuran Daerah Genangan di Pesisir Bangkalan Akibat Naiknya Muka Air Laut. Jurnal Ilmiah Perikanan dan Kelautan 5 (1): 67.
3Liyani, Kriyo S., Suntoyo, 2012. Analisa Perubahan Garis Pantai Akibat Kenaikan Muka Air Laut di Kawasan Pesisir Kabupaten Tuban. Jurnal Teknik POMITS 1 (1): 1
4Murtidjo, B. A., 2002. Budi Daya dan Pembenihan Bandeng. Yogyakarta: Penerbit Kanisius. 111 hlm.
5Sidabutar, Y. L., B. Sasmito, F. J. Amarrohman, 2016. Analisis Sea Level Rise dan Komponen Pasang Surut dengan Menggunakan Data Satelit Altimetri JASON-2. Jurnal Geodesi Undip 5 (1): 245
6Khasanah I. U., S. Wirdinata, Q. Guvil, 2017. Analisis Harmonik Pasang Surut untuk Menghitung Nilai Muka Surutan Peta (Chart Datum) Stasiun Pasut Sibolga. Prosiding Seminar Nasional Strategi Pembangunan Infrastruktur ke-3 (SPI-3). ITP, Padang.
7Adibrata, S., 2007. Analisis Pasang Surut di Pulau Karampuang, Provinsi Sulawesi Barat. Jurnal Sumberdaya Perairan 1 (1): 1-2.
8Mardiatno D., B. Susilo, E. T. W. Mei, 2018. Potensi Sumberdaya Pesisir Kabupaten Jepara. Yogyakarta: Gadjah Mada University Press. 227 hlm.
9Istijanto, M.M., 2009. Aplikasi Praktis Riset Pemasaran. Jakarta: Gramedia.
10Suprijanto H. dan Putra S. M. B., 2017. Buku Ajar Teknik Pantai. Malang: UB Press. 229 hlm.
11Prarikeslan, W., 2016. Oseanografi. Jakarta: K E N C A N A. 199 hlm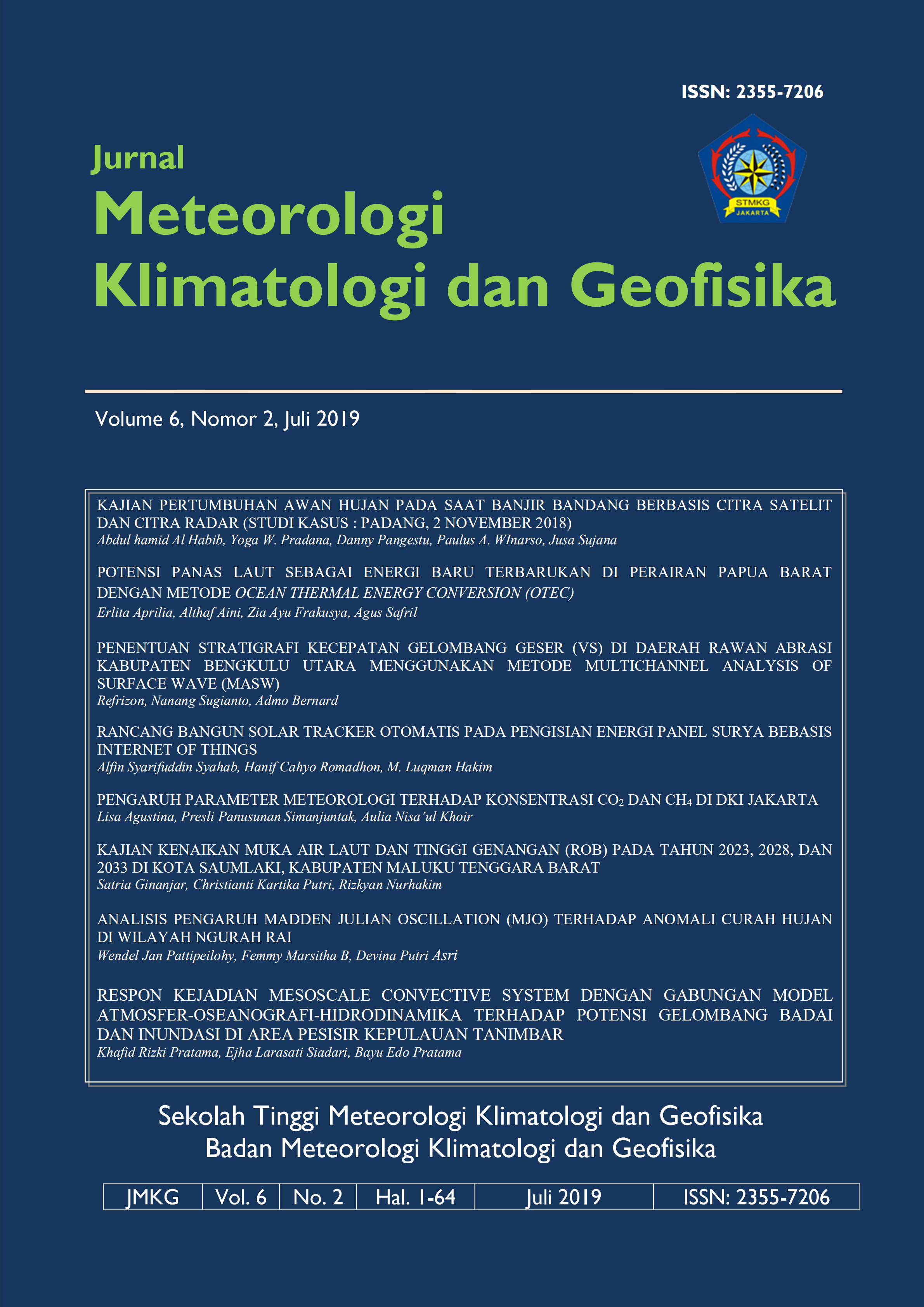 How to Cite
Ginanjar, S., Putri, C. K., & Nurhakim, R. (2019). KAJIAN KENAIKAN MUKA AIR LAUT DAN TINGGI GENANGAN (ROB) PADA TAHUN 2023, 2028, DAN 2033 DI KOTA SAUMLAKI, KABUPATEN MALUKU TENGGARA BARAT. Jurnal Meteorologi Klimatologi Dan Geofisika, 6(2), 39-48. https://doi.org/10.36754/jmkg.v6i2.122
Copyright (c) 2019 Jurnal Meteorologi Klimatologi dan Geofisika
This work is licensed under a Creative Commons Attribution-NonCommercial 4.0 International License.
Authors who publish with this journal agree to the following terms:
Authors retain copyright and grant the journal right of first publication with the work simultaneously licensed under a Creative Commons Attribution License that allows others to share the work with an acknowledgement of the work's authorship and initial publication in this journal.
Authors are able to enter into separate, additional contractual arrangements for the non-exclusive distribution of the journal's published version of the work (e.g., post it to an institutional repository or publish it in a book), with an acknowledgement of its initial publication in this journal.
Authors are permitted and encouraged to post their work online (e.g., in institutional repositories or on their website) prior to and during the submission process, as it can lead to productive exchanges, as well as earlier and greater citation of published work.