PEMANFAATAN MODEL WRF-CHEM DALAM ANALISIS SEBARAN ABU VULKANIK GUNUNG MERAPI (ERUPSI TANGGAL 23 MARET 2020)
Ricko Yudistira

Indonesian School of Meteorology Climatology and Geophysics

Indah Sary

Sekolah Tinggi Meteorologi Klimatologi dan Geofisika Banten, Indonesia

Agung Hari Saputra

Sekolah Tinggi Meteorologi Klimatologi dan Geofisika Banten, Indonesia
Keywords:
Volcanic ash, Mount Merapi, WRF-Chem, VAAC
Abstract
Volcanic ash is the result of fusion on mountain released into the atmosphere. Volcanic ash has dangerous impact for several sectors as health, agriculture, until flight safety. Therefore, it is important to forecast the direction of volcanic ash distribution to reduce disadvantage caused by volcanic ash. One of the way to forecast volcanic ash is to use the WRF-Chem model. The WRF-Chem model is a numerical weather forecast model with chemistry parameter elements so that it can predict the direction of volcanic ash distribution. On March 27, 2020, Mount Merapi had an eruption which caused volcanic ash to reach a height of about 5000 meters from the crater of the mountain. The results of the WRF-Chem model show the distribution direction of each size and concentration of volcanic ash from the 700mb to 300mb levels. The model results show that the volcanic ash distribution of each levels moves to the Southwest in accordance with the advisory data released by VAAC Darwin. However, the results of the model have a time delay in the distribution of volcanic ash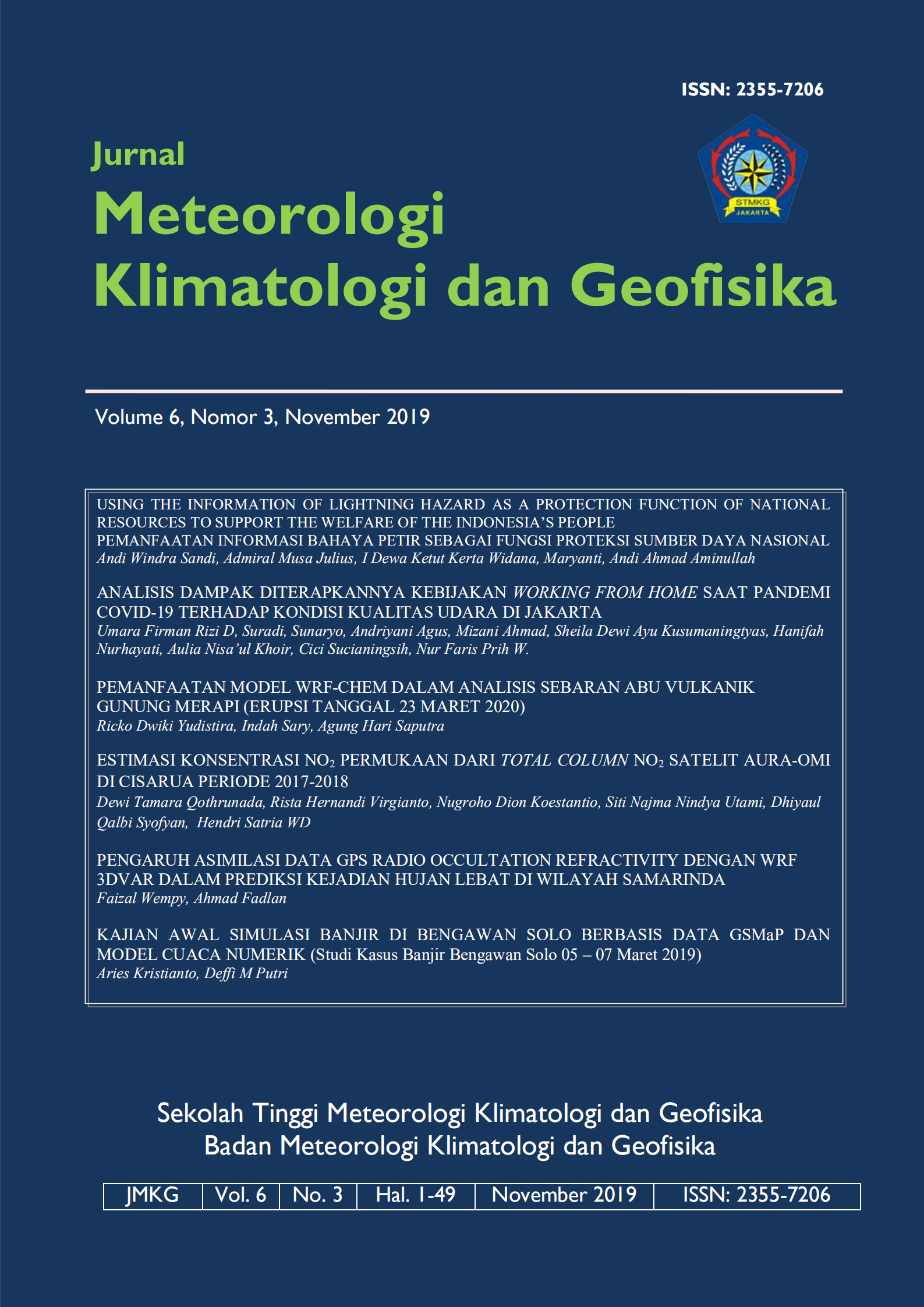 How to Cite
Yudistira, R., Indah Sary, & Agung Hari Saputra. (2020). PEMANFAATAN MODEL WRF-CHEM DALAM ANALISIS SEBARAN ABU VULKANIK GUNUNG MERAPI (ERUPSI TANGGAL 23 MARET 2020). Jurnal Meteorologi Klimatologi Dan Geofisika, 6(3), 15-22. https://doi.org/10.36754/jmkg.v6i3.137
Copyright (c) 2020 Jurnal Meteorologi Klimatologi dan Geofisika
This work is licensed under a Creative Commons Attribution-NonCommercial 4.0 International License.
Authors who publish with this journal agree to the following terms:
Authors retain copyright and grant the journal right of first publication with the work simultaneously licensed under a Creative Commons Attribution License that allows others to share the work with an acknowledgement of the work's authorship and initial publication in this journal.
Authors are able to enter into separate, additional contractual arrangements for the non-exclusive distribution of the journal's published version of the work (e.g., post it to an institutional repository or publish it in a book), with an acknowledgement of its initial publication in this journal.
Authors are permitted and encouraged to post their work online (e.g., in institutional repositories or on their website) prior to and during the submission process, as it can lead to productive exchanges, as well as earlier and greater citation of published work.