PEMANFAATAN INFORMASI BAHAYA PETIR SEBAGAI FUNGSI PROTEKSI SUMBER DAYA NASIONAL
Andi Windra Sandi

Universitas Pertahanan

Admiral Musa Julius

Pusat Gempabumi dan Tsunami, Kedeputian Bidang Geofisika, BMKG, Indonesia

I Dewa Ketut Kerta Widana

Prodi Manajemen Bencana, Fakultas Keamanan Nasional, Universitas Pertahanan, Indonesia

Maryanti

Prodi Manajemen Bencana, Fakultas Keamanan Nasional, Universitas Pertahanan, Indonesia

Andi Ahmad Aminullah

Prodi Manajemen Bencana, Fakultas Keamanan Nasional, Universitas Pertahanan, Indonesia
Abstract
Indonesia is a tropical country and an archipelago that has two seasons namely dry and rainy. In the rainy season often a lightning phenomenon that can endanger national resources. This condition needs to be minimized by the presence of lightning hazard information. This study aims to determine the lightning hazard information display. Service lightning BMKG information in this article shows that at certain times the lightning spread very evenly in the region of South Sumatra and Java. Service lightning hazard information is very useful to support the protection functions of national resources.
References
Aninoquisi. 2004. "User Manual" Lightning Detector (Lightning/2000). Diterjemahkan oleh: Sukendro dan Efendi, N., Sub Bidang Magnet Bumi dan Lsitrik Udara, BMKG, Jakarta
Bandri, S. 2014. Sistem Proteksi Petir Internal dan Eksternal. Jurnal Teknik Electro ITP, Vol. 3 No.1
Badan Meteorologi Klimatologi dan Geofisika (BMKG). 2020. BMKG: Intrusi Udara Kering dari Utara Picu Hujan Lebat, Petir. Diunduh melalui: https://tekno.tempo.co/read/1348038/bmkg-intrusi-udara-kering-dari-utara-picu-hujan-lebat-petir/full&view=ok
Badan Nasional Penanggulangan Bencana. 2016. Pendayagunaan Potensi dan Sumber Daya untuk Pencegahan, Mitigasi dan Kesiapsiagaan Bersama. internet: https://www.bnpb.go.id/pendayagunaan-potensi-dan-sumber-daya-untuk-pencegahan-mitigasi-dan-kesiapsiagaan-bersama- diakses 3 Januari 2020
Septiadi, D., Hadi, S., Tjasyono, B. 2011. Karakteristik Petir dari Awan ke Bumi dan Hubungannya dengan Curah Hujan. Jurnal Sains Dirgantara Vol 8 No. 2 Juni Hlm. 132
Septiadi, D., Hadi, S., 2011. Karakteristik Petir terkait curah hujan lebat di wilayah Bandung, jawa Barat. Jurnal Meteorologi dan Geofisika Volume 12 Nomor 2. Hlm 163-164
Septiadi, D., Sulistya W., Adi, S. P., Nugroho, H. (2016). The Use of Lightning Data for Convective Rainfall Estimation. Scientific Journal of PPI-UKM. Vol. 3 (2016) No. 4.
Ibrahim, G. 2011. Tektonik Indonesia Badan Meteorologi Klimatologi dan Geofisika. Jakarta
Samego, I. 2015. "Kontekstualisasi Sishanneg: Pemberdayaan Wilayah Pertahanan dalam perspektif perubahan" Jurnal Pertahanan Volume 5 Nomor 1. Hlm. 8-9
Julius, A.M., dan Sunardi, B. (2015). Earthquake Response of Storey Building in Jakarta using Accelerographs Data Analysis. AIP Conf. Proc. 1658, 040001 (2015); dx.doi.org/10.1063/1.4915034
Kementerian Pertahanan. 2019. Rancangan Undang-Undang Pengelolaan Sumberdaya Nasional Pertahanan. internet: https://www.kemhan.go.id/pothan/wp-content/uploads/2018/04/RUU_PSDN_FINAL.pdf diakses 8 januari 2020
Nurlia, E. Dan Kabain, H. 2010. Atlas Sejarah Indonesia dan Dunia. Jakarta: Citra Grafika Pratama
Notowidagdo, R. 2016. Pengantar Kesejahteraan Sosial Berwawasan Iman dan Takwa. Jakarta: Amzah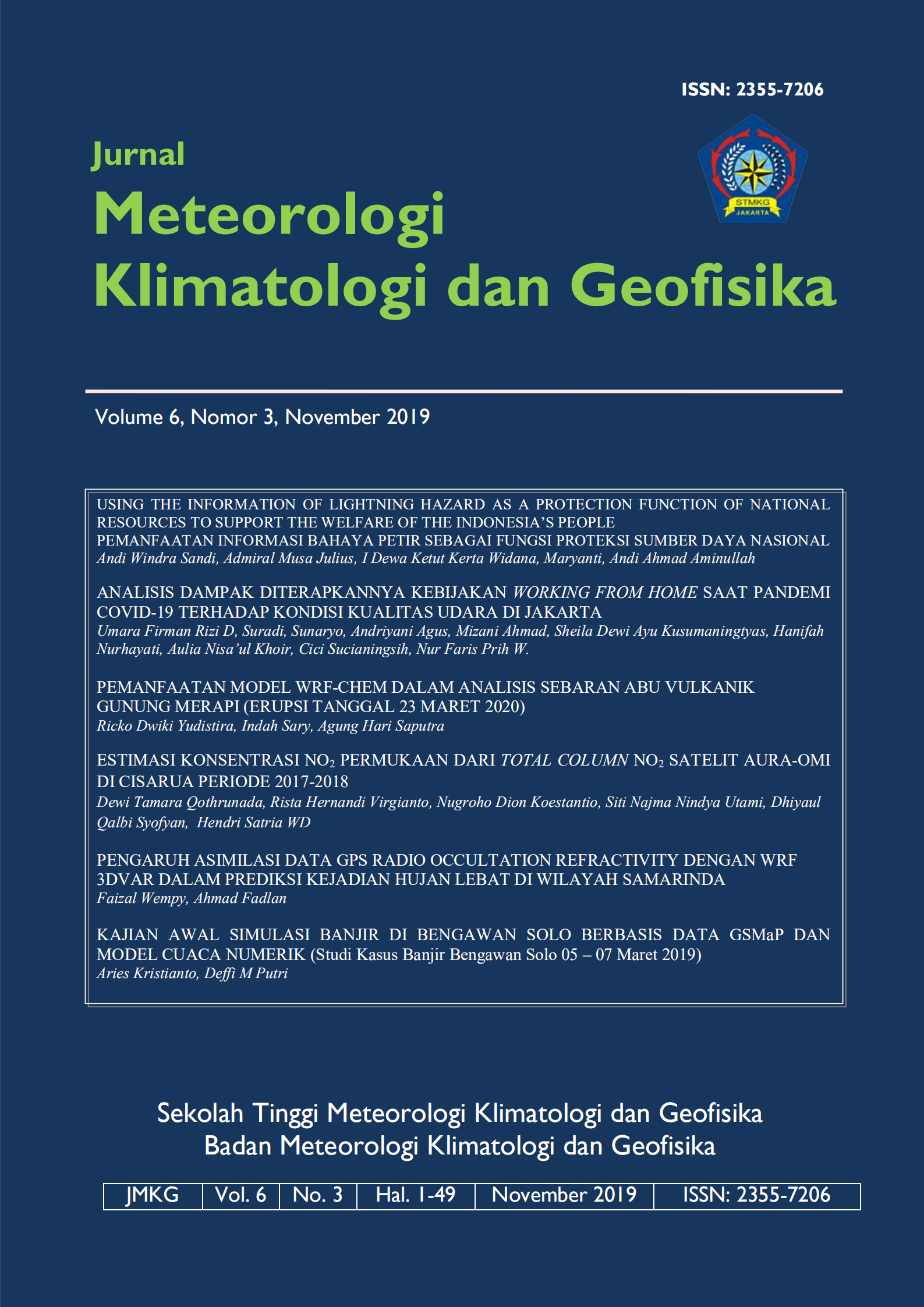 How to Cite
Sandi, A. W., Admiral Musa Julius, I Dewa Ketut Kerta Widana, Maryanti, & Andi Ahmad Aminullah. (2020). PEMANFAATAN INFORMASI BAHAYA PETIR SEBAGAI FUNGSI PROTEKSI SUMBER DAYA NASIONAL . Jurnal Meteorologi Klimatologi Dan Geofisika, 6(3), 1-5. https://doi.org/10.36754/jmkg.v6i3.142
Copyright (c) 2020 Jurnal Meteorologi Klimatologi dan Geofisika
This work is licensed under a Creative Commons Attribution-NonCommercial 4.0 International License.
Authors who publish with this journal agree to the following terms:
Authors retain copyright and grant the journal right of first publication with the work simultaneously licensed under a Creative Commons Attribution License that allows others to share the work with an acknowledgement of the work's authorship and initial publication in this journal.
Authors are able to enter into separate, additional contractual arrangements for the non-exclusive distribution of the journal's published version of the work (e.g., post it to an institutional repository or publish it in a book), with an acknowledgement of its initial publication in this journal.
Authors are permitted and encouraged to post their work online (e.g., in institutional repositories or on their website) prior to and during the submission process, as it can lead to productive exchanges, as well as earlier and greater citation of published work.