PENGARUH KETERSEDIAAN RUANG TERBUKA HIJAU TERHADAP TINGKAT KENYAMANAN TERMAL DI WILAYAH PERKOTAAN (Studi Kasus di Kelurahan Sokanegara, Kota Purwokerto)
Asri Sekar Ningrum

Muhamad Khairul Rosyidy

Novia Rahmat Desti Sukmawati

Ike Widia Ariani

Astrid Damayanti
Keywords:
Thermal Comport, Microclimate, Open green space
Abstract
Population increasing in the city of Purwokerto affects the increase in built-up area and reduced vegetation areas or Green Open Space (RTH). According to the Ministry of Public Works, urban areas must provide green open space (RTH) as much as 30% of the total area. The condition of Green Open Space (RTH) and its availability is important for a city because it will greatly affect the environmental conditions and microclimate around the area. This study aims to determine the availability of Green Open Space (RTH) in urban areas and its effect on the level of thermal comfort by emphasizing the Sokanegara, Purwokerto City. The data used is the Sentinel-2A satellite image data acquisition of 12 September 2019, for analysis of the distribution of green open spaces using the NDVI (Normalized Difference Vegetation Index) algorithm. The method to get the level of thermal comfort is to use the THI (Thermal Humidity Index) index. The results indicated that all types of green open space in Sokanegara sub-district categorized as uncomfortable because the THI value at each sample point of green open space is more than 28 ℃. Therefore, further planning is needed to increase the Green Open Space in Sokanegara Village, East Purwokerto.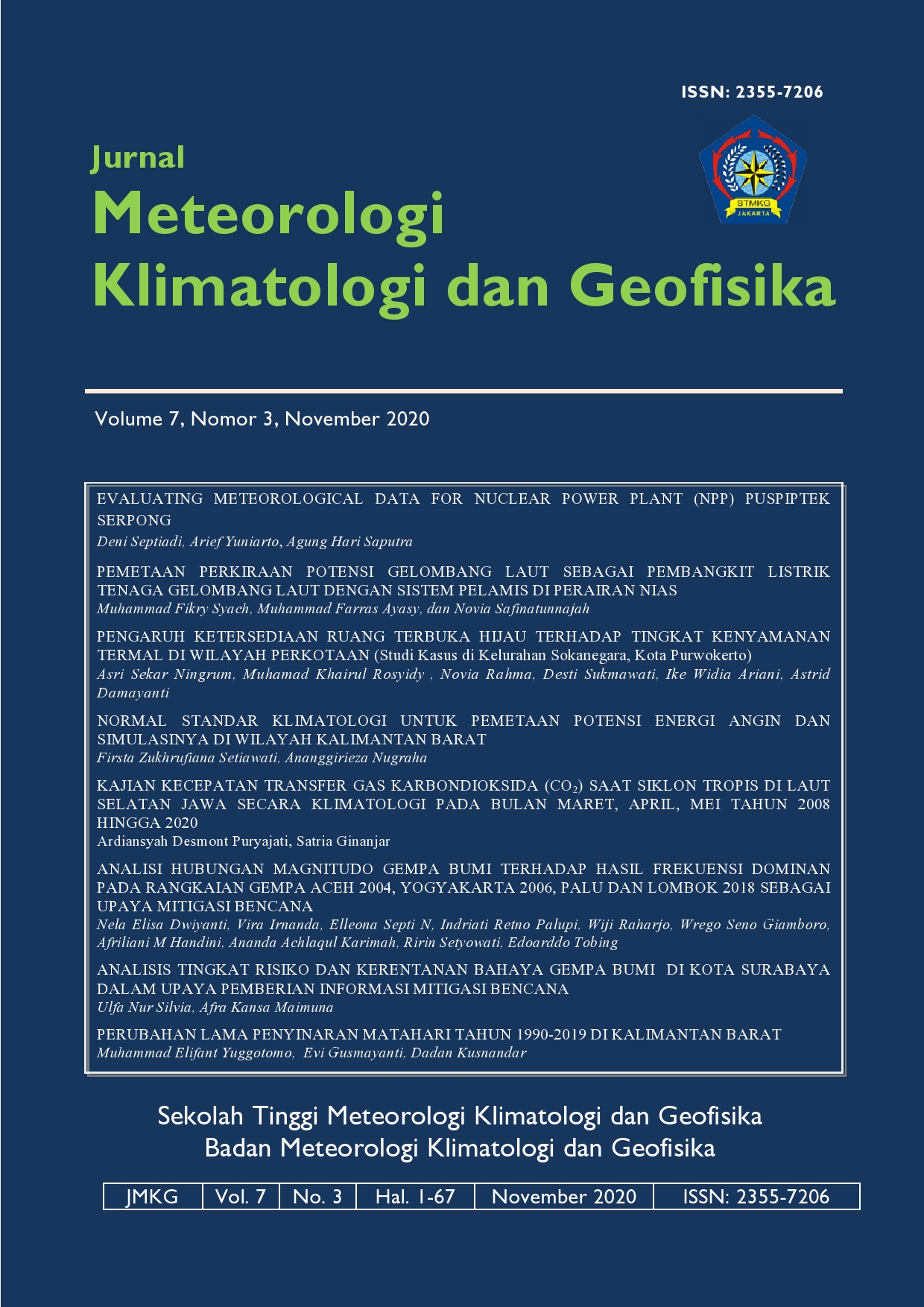 How to Cite
Asri Sekar Ningrum, Muhamad Khairul Rosyidy, Novia Rahmat Desti Sukmawati, Ike Widia Ariani, & Astrid Damayanti. (2021). PENGARUH KETERSEDIAAN RUANG TERBUKA HIJAU TERHADAP TINGKAT KENYAMANAN TERMAL DI WILAYAH PERKOTAAN (Studi Kasus di Kelurahan Sokanegara, Kota Purwokerto). Jurnal Meteorologi Klimatologi Dan Geofisika, 7(3), 20-28. https://doi.org/10.36754/jmkg.v7i3.199
Copyright (c) 2021 Jurnal Meteorologi Klimatologi dan Geofisika
This work is licensed under a Creative Commons Attribution-NonCommercial 4.0 International License.
Authors who publish with this journal agree to the following terms:
Authors retain copyright and grant the journal right of first publication with the work simultaneously licensed under a Creative Commons Attribution License that allows others to share the work with an acknowledgement of the work's authorship and initial publication in this journal.
Authors are able to enter into separate, additional contractual arrangements for the non-exclusive distribution of the journal's published version of the work (e.g., post it to an institutional repository or publish it in a book), with an acknowledgement of its initial publication in this journal.
Authors are permitted and encouraged to post their work online (e.g., in institutional repositories or on their website) prior to and during the submission process, as it can lead to productive exchanges, as well as earlier and greater citation of published work.