NORMAL STANDAR KLIMATOLOGI UNTUK PEMETAAN POTENSI ENERGI ANGIN DAN SIMULASINYA DI WILAYAH KALIMANTAN BARAT
Firsta Zukhrufiana Setiawati

Ananggirieza Nugraha2
Keywords:
Climatological standard normal, Reanalysis, Simulation.
Abstract
Today, there are more and varied researches on renewable energy, including on utilization of wind energy. Wind energy has been used to generate 147 MW of electricity in Sidrap and Jeneponto (South Sulawesi). The present study is prepared to determine the amount of wind energy potential and its capability in the power produced in West Kalimantan. The study was performed using statistic calculation and analysis by using data of wind speed at an altitude of 10 meters above ground level from manual observation and PSD reanalysis, NOAA. The research result shows that wind energy potential is relatively low in June and December, as shown in the map of wind energy potential based on climatological standard normal. Following shear pattern on streamline, central West Kalimantan has the lowest wind energy potential (< 25 W/m2). The highest wind energy potential is in Ketapang Regency (Tumbang Titi Sub-district) which is > 52 W/m2). HOMER simulation for Tumbang Titi shows wind energy potential can be used to generate into 9,457 kWh/year and requires $4,071.15, with most of the expenses for wind turbine which amounts to $3,632.61.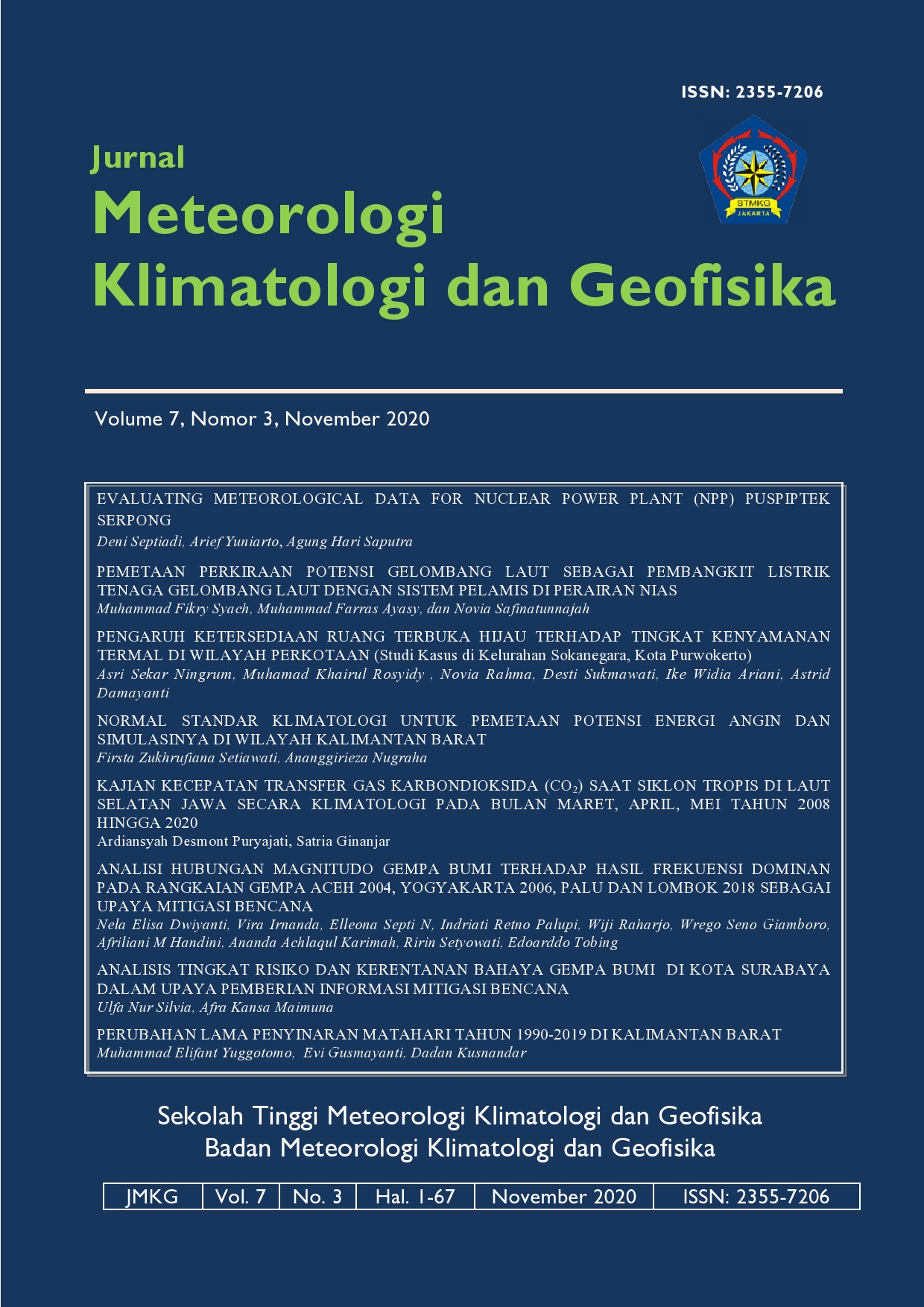 How to Cite
Firsta Zukhrufiana Setiawati, & Ananggirieza Nugraha2. (2021). NORMAL STANDAR KLIMATOLOGI UNTUK PEMETAAN POTENSI ENERGI ANGIN DAN SIMULASINYA DI WILAYAH KALIMANTAN BARAT. Jurnal Meteorologi Klimatologi Dan Geofisika, 7(3), 29-35. https://doi.org/10.36754/jmkg.v7i3.201
Copyright (c) 2021 Jurnal Meteorologi Klimatologi dan Geofisika
This work is licensed under a Creative Commons Attribution-NonCommercial 4.0 International License.
Authors who publish with this journal agree to the following terms:
Authors retain copyright and grant the journal right of first publication with the work simultaneously licensed under a Creative Commons Attribution License that allows others to share the work with an acknowledgement of the work's authorship and initial publication in this journal.
Authors are able to enter into separate, additional contractual arrangements for the non-exclusive distribution of the journal's published version of the work (e.g., post it to an institutional repository or publish it in a book), with an acknowledgement of its initial publication in this journal.
Authors are permitted and encouraged to post their work online (e.g., in institutional repositories or on their website) prior to and during the submission process, as it can lead to productive exchanges, as well as earlier and greater citation of published work.