IDENTIFIKASI PERUBAHAN CURAH HUJAN DAN SUHU UDARA MENGGUNAKAN RCLIMDEX DI WILAYAH SERANG
Nizar Manarul Hidayat

Sekolah Tinggi Meteorologi Klimatologi dan Geofisika

Alexander Eggy Pandiangan

Sekolah Tinggi Meteorologi Klimatologi dan Geofisika

Anggitya Pratiwi

Sekolah Tinggi Meteorologi Klimatologi dan Geofisika
Keywords:
air temperature, air temperature indices, precipitation, Rclimdex, precipitation indices
Abstract
Climate data were analyzed to determine the of changes of climate parameters value or extreme climate events. Data which are investigated on this study come from Serang Banten Meteorological Station. The purpose of this research is to analyze the climate characteristic of weather of Serang observation station especially in air temperature and rainfall and to identify any changes in temperature and precipitation pattern at those observation stations. Data processing was done by using R-Climdex to detect the long-term change in temperature and precipitation. The results show that the slope of the air temperature index at the Serang observation station has decreased, namely TX10p and TN10p indexes, which indicating the number of cold days during the day and night has decreased. At Serang station the air temperature index slope (TN90p) tends to increase indicating warmer air temperatures. The rainfall index almost entirely decreased except CDD which showed increasing of dry day series at Serang region.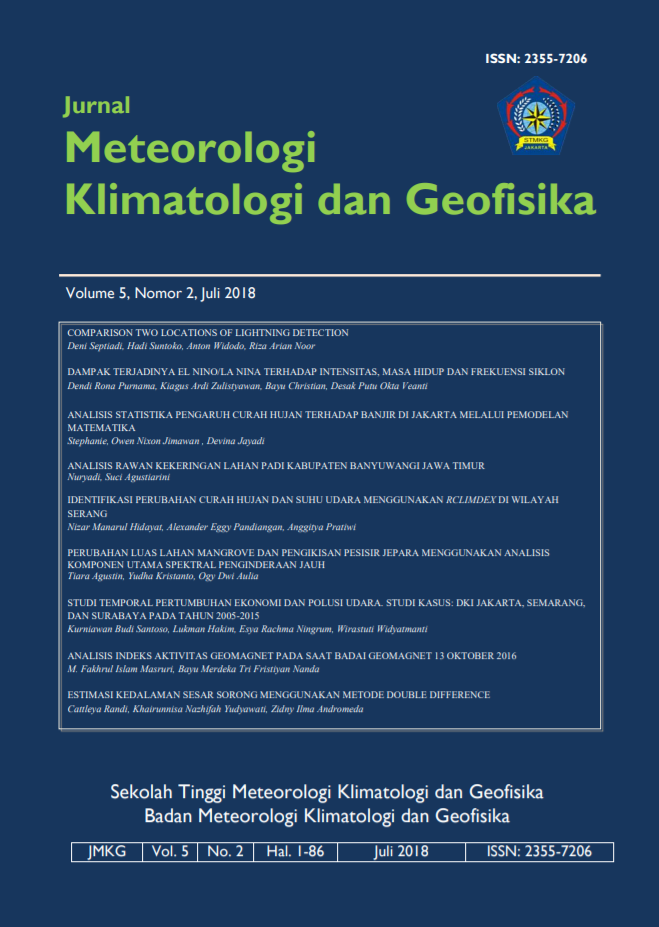 How to Cite
Hidayat, N. M., Pandiangan, A. E., & Pratiwi, A. (2019). IDENTIFIKASI PERUBAHAN CURAH HUJAN DAN SUHU UDARA MENGGUNAKAN RCLIMDEX DI WILAYAH SERANG. Jurnal Meteorologi Klimatologi Dan Geofisika, 5(2), 37-44. https://doi.org/10.36754/jmkg.v5i2.57
Copyright (c) 2019 Jurnal Meteorologi Klimatologi dan Geofisika
This work is licensed under a Creative Commons Attribution-NonCommercial 4.0 International License.
Authors who publish with this journal agree to the following terms:
Authors retain copyright and grant the journal right of first publication with the work simultaneously licensed under a Creative Commons Attribution License that allows others to share the work with an acknowledgement of the work's authorship and initial publication in this journal.
Authors are able to enter into separate, additional contractual arrangements for the non-exclusive distribution of the journal's published version of the work (e.g., post it to an institutional repository or publish it in a book), with an acknowledgement of its initial publication in this journal.
Authors are permitted and encouraged to post their work online (e.g., in institutional repositories or on their website) prior to and during the submission process, as it can lead to productive exchanges, as well as earlier and greater citation of published work.