PERUBAHAN LUAS LAHAN MANGROVE DAN PENGIKISAN PESISIR JEPARA MENGGUNAKAN ANALISIS KOMPONEN UTAMA SPEKTRAL PENGINDERAAN JAUH
Tiara Agustin

Institut Pertanian Bogor

Yudha Kristanto

Institut Pertanian Bogor

Ogy Dwi Aulia

Institut Pertanian Bogor
Keywords:
abrasion, environmental damage, land cover, landsat, shoreline changes analysis
Abstract
Conversion of mangroves into development areas along the coast of Kecamatan Kedung, Jepara has caused the vulnerability of coastal areas by abrasion of Java Sea. Abrasion has eroded the land area and shifted the shoreline. The decrease of mangrove area and shoreline shift is detected by using channel combination of red, NIR, and SWIR and red / SWIR / SWIR / NIR channel ratios from Landsat 5 TM, Landsat 7 ETM + and Landsat 8 OLI multitemporal 1995-2017 images. Principal component analysis of all channels and the channel ratios combined with supervised classification techniques is selected to classify land cover, including to distinguish non mangrove vegetation with mangrove vegetation and differentiate the area of land with ocean region. The results of the analysis show that the change of mangrove land cover decreased by 668.95 ha or by 55% during 1995-2017. This decrease is followed by an increase in water or sea area due to abrasion and increasing of pond area. The mangrove land cover decreased at a rate of 30.7 ha / year, while the pond area increased at a rate of 31.98 ha / year and the settlement was reduced by 15.6 ha / year. Due to abrasion, the shoreline in the Kedung region shifts at a rate of 12.6 meters per year landward.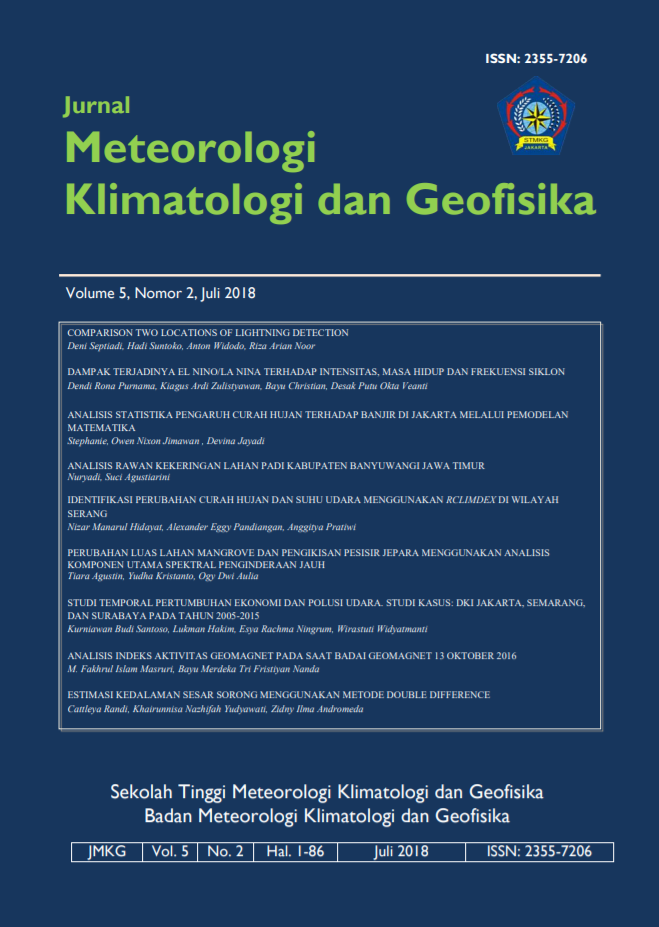 How to Cite
Agustin, T., Kristanto, Y., & Aulia, O. D. (2019). PERUBAHAN LUAS LAHAN MANGROVE DAN PENGIKISAN PESISIR JEPARA MENGGUNAKAN ANALISIS KOMPONEN UTAMA SPEKTRAL PENGINDERAAN JAUH. Jurnal Meteorologi Klimatologi Dan Geofisika, 5(2), 45-53. https://doi.org/10.36754/jmkg.v5i2.58
Copyright (c) 2019 Jurnal Meteorologi Klimatologi dan Geofisika
This work is licensed under a Creative Commons Attribution-NonCommercial 4.0 International License.
Authors who publish with this journal agree to the following terms:
Authors retain copyright and grant the journal right of first publication with the work simultaneously licensed under a Creative Commons Attribution License that allows others to share the work with an acknowledgement of the work's authorship and initial publication in this journal.
Authors are able to enter into separate, additional contractual arrangements for the non-exclusive distribution of the journal's published version of the work (e.g., post it to an institutional repository or publish it in a book), with an acknowledgement of its initial publication in this journal.
Authors are permitted and encouraged to post their work online (e.g., in institutional repositories or on their website) prior to and during the submission process, as it can lead to productive exchanges, as well as earlier and greater citation of published work.