KAJIAN PERUBAHAN IKLIM DITINJAU DARI PENGARUH TINGKAT GDP PER KAPITA TERHADAP EMISI CO2 DI ASIA TENGGARA TAHUN 1980 – 2014
Wahyu Nurbandi

Universitas Gadjah Mada

Indinna Sofia Astuti

Universitas Gadjah Mada
Keywords:
GDP per capita, CO2 emission, spatio-temporal analysis
Abstract
Climate change as one of the global issues that also became one of the agenda of Sustainable Development Goals (SDGs). It is an important issue because it has a significant impact on various aspects of life, such as changing season patterns, increasing the vulnerability of natural disasters, etc. It is influenced by various factors, such as increases CO2 emissions. Previous studies said that CO2 emission relate with economic growth. GDP per capita can be used for economic growth measuring. This study aims to analyze the relationship between GDP per capita and CO2 emissions in ASEAN countries from 1980 to 2014. The methods used in this research are spatiotemporal visualization and statistical analysis. GDP per capita and CO2 emission data are visualized spatiotemporally using maps and graphs. Used scatter plots and regression analysis to determine the effect of per capita GDP on CO2 emissions. Spearman's correlation statistical correlation test is used to determine correlation power to GDP per capita and CO2 emissions. The results showed a strong influence with the R2 is 0.5319 between GDP per capita to CO2 emissions. Correlation test show a strong correlation and positive value of 0.729. It can be concluded that on the influence and strong correlation between GDP per capita and CO2 emissions.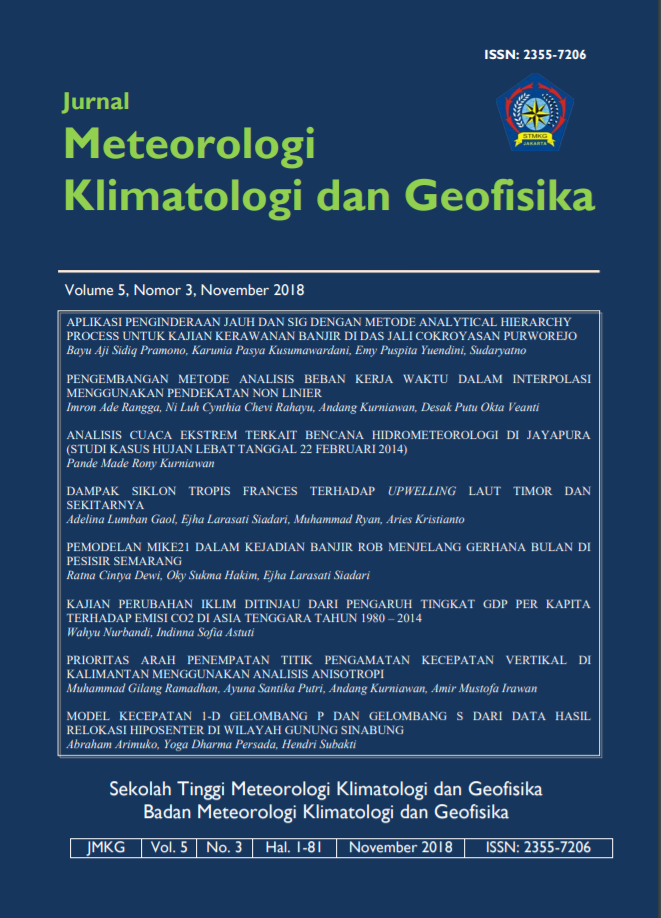 How to Cite
Nurbandi, W., & Astuti, I. (2019, April 29). KAJIAN PERUBAHAN IKLIM DITINJAU DARI PENGARUH TINGKAT GDP PER KAPITA TERHADAP EMISI CO2 DI ASIA TENGGARA TAHUN 1980 – 2014. Jurnal Meteorologi Klimatologi Dan Geofisika, 5(3), 53-62. https://doi.org/https://doi.org/10.36754/jmkg.v5i3.75
This work is licensed under a Creative Commons Attribution-NonCommercial 4.0 International License.
Authors who publish with this journal agree to the following terms:
Authors retain copyright and grant the journal right of first publication with the work simultaneously licensed under a Creative Commons Attribution License that allows others to share the work with an acknowledgement of the work's authorship and initial publication in this journal.
Authors are able to enter into separate, additional contractual arrangements for the non-exclusive distribution of the journal's published version of the work (e.g., post it to an institutional repository or publish it in a book), with an acknowledgement of its initial publication in this journal.
Authors are permitted and encouraged to post their work online (e.g., in institutional repositories or on their website) prior to and during the submission process, as it can lead to productive exchanges, as well as earlier and greater citation of published work.