MODEL KECEPATAN 1-D GELOMBANG P DAN GELOMBANG S DARI DATA HASIL RELOKASI HIPOSENTER DI WILAYAH GUNUNG SINABUNG
Abraham Arimuko

Sekolah Tinggi Meteorologi Klimatologi dan Geofisika

Yoga Dharma Persada

Sekolah Tinggi Meteorologi Klimatologi dan Geofisika

Hendri Subakti

Sekolah Tinggi Meteorologi Klimatologi dan Geofisika
Keywords:
relocation, Mount Sinabung, Joint Hypocenter Determination, local velocity model
Abstract
Mount Sinabung is an active volcano after no activity (dormant) for more than 400 years. Mount Sinabung to this day performs volcanic activity. It makes people around the Mount Sinabung's slopes are worried. This research purposed to relocate hypocenter to get model of speed of 1-D wave P and S wave at Mount Sinabung which can be used as reference data of subsurface condition. This study uses the input data magnitude, hypocenter parameters, and the arrival time of P wave and S wave. This data is obtained from BMKG EQ (Earthquakes) Repository. The occurrence of earthquakes used in the time span from 1 January 2017 to 28 February 2017 and at coordinates of 3,0931 °N-3,3543 °N and 98.2928 °E-98.6202 °E. In this processing also uses the parameter location of the station (sensor). The data is relocated using VELEST 3.3 software with IASP91's global speed model as the initial speed model. The result of the relocation is the correction of the station position (sensor), the final hypocenter parameters, the seismic wave timing, and the 1-D wave model P and S waves. The results obtained for the 1-D wave velocity model P at a depth of 0 km is 5.58 km/s and for a depth of 210 km, the deepest layer in this data processing, amounted to 8.30 km/s.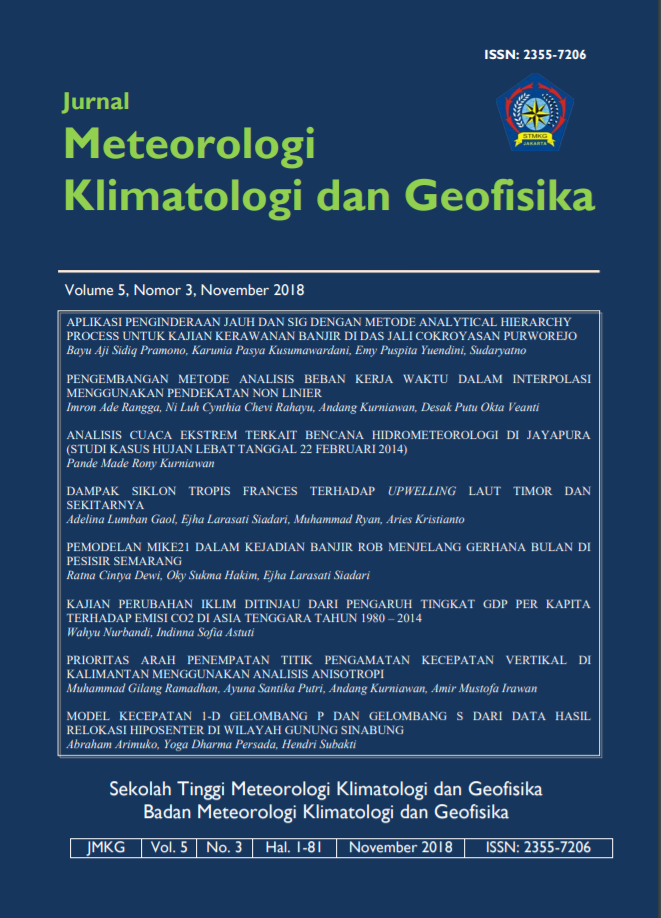 How to Cite
Arimuko, A., Persada, Y., & Subakti, H. (2019, April 29). MODEL KECEPATAN 1-D GELOMBANG P DAN GELOMBANG S DARI DATA HASIL RELOKASI HIPOSENTER DI WILAYAH GUNUNG SINABUNG. Jurnal Meteorologi Klimatologi Dan Geofisika, 5(3), 72-79. https://doi.org/https://doi.org/10.36754/jmkg.v5i3.77
This work is licensed under a Creative Commons Attribution-NonCommercial 4.0 International License.
Authors who publish with this journal agree to the following terms:
Authors retain copyright and grant the journal right of first publication with the work simultaneously licensed under a Creative Commons Attribution License that allows others to share the work with an acknowledgement of the work's authorship and initial publication in this journal.
Authors are able to enter into separate, additional contractual arrangements for the non-exclusive distribution of the journal's published version of the work (e.g., post it to an institutional repository or publish it in a book), with an acknowledgement of its initial publication in this journal.
Authors are permitted and encouraged to post their work online (e.g., in institutional repositories or on their website) prior to and during the submission process, as it can lead to productive exchanges, as well as earlier and greater citation of published work.